Hey, Everyone, Don't Fall for This Misleading Graph About College Costs
The price of a four-year degree is climbing. The typical middle-class income is not.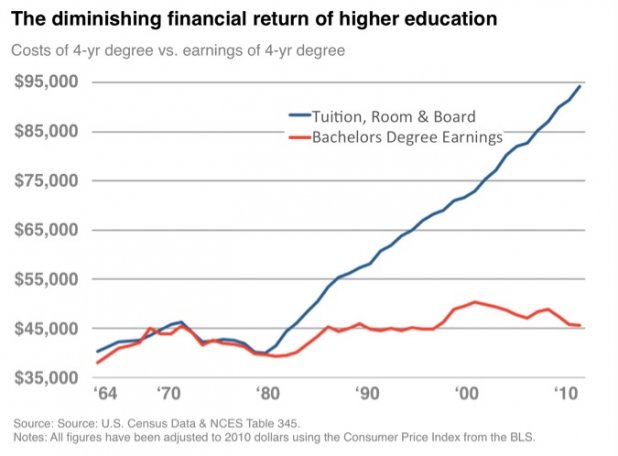 David Blake gives the play call: "The ROI of education has diminished for all and become negative for many. We have lost the ubiquitous positive financial return on education."
There are three claims here, and they are all questionable.

First, the flattish read line does not tell us the ROI of education has diminished "for all." The college premium -- the gap between the earnings of a typical college graduate and a typical high-school-only graduate -- has increased significantly between 1964 and today. In other words, the cost of not going to college has increased. The college RONI -- "return" on not investing -- is the key stat. At the very, very least, we can think of college as less an investment than an insurance policy against the odds that our wages fall behind inflation.
Second, this graph does not in any way prove that investing in education yields negative returns. It shows that a yearly wage is cheaper than the cost of a four-year degree. That stinks, but, you know, workers don't retire at 23. They retire closer to 63 or 73. In those 40 or 50 years, college is an appreciating asset. Like a ladder to an escalator, it both gives you access to higher pay out of college and puts you on a path to rising wages that high-school-only grads are locked out of. You won't find that in the graph.

Third, there is practically no such thing as a "ubiquitous positive financial return" to anything ... but if there were, it would probably be education! The typical college graduate earns $570,000 more than the average person with only a high school diploma over her lifetime. "The $102,000 investment in a four-year college yields a rate of return of 15.2 percent per year,"  Michael Greenstone and Adam Looney have reported, "more than double the average return over the last 60 years experienced in the stock market" and more than five times the return in corporate bonds, gold, long-term government bonds, or housing.
David Blake goes on to make some points about putting education online, and my response to that is right on! But the case for technology and innovation and disruption is strong enough on its own to not need misleading charts to distract from the bigger picture: In general, the one thing more expensive than college is not going to college.