Fashionomics: How America Shed Her Clothes (Factories)
Looking back at when the apparel industry made offshoring trendy.
Fashion, as even we khaki-wearing office types know, is all about trend setting. Flapper dresses in the 20s. Shoulder pads in the 80s. Skinny jeans that make men look like wobbly, newborn gazelles in the 2000s. It's a business built on thinking a few years ahead, and sometimes dragging the country places we didn't know we wanted to go.
So perhaps its appropriate that clothing was one of the first American manufacturing industries to take a truly post-industrial turn in the late 20th century. U.S. textile mills began closing in the 1970s, and by the 1990s apparel production was in full collapse. The Bureau of Labor Statics has produced a great online feature tracking the last 20 or so years of the domestic fashion industry, including graph below illustrating the way jobs simply evaporated here thanks to competition from abroad. Between 1990 and 2011, 80 percent of apparel manufacturing jobs disappeared.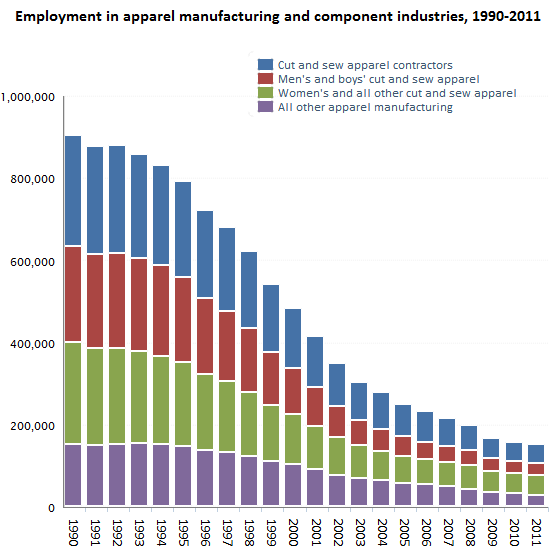 This has been a tragedy for workers and factory towns. But it's been triumph for consumers, because it's kept clothing cheap. The black line on the graph below is the consumer price index, which measures inflation. That colorful tangle at the bottom is all apparel. The price of a basic shirt was pretty much arrested in the 1990s, when all those jobs headed overseas. For better or worse, that's the bargain we've made.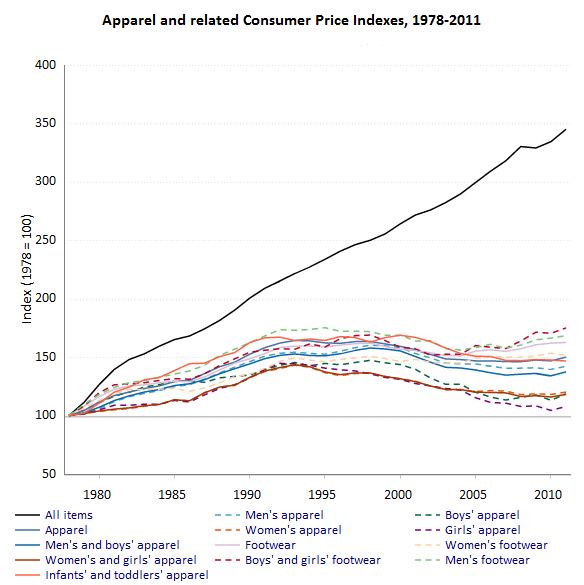 In the meantime, what we've been left here in the states is essentially a high-margin knowledge industry. J. Crew, Ann Taylor and the like are a lot like Apple, with design and marketing concentrated here in the states, and production outsourced to factories in Asia. The safest jobs in the industry, as shown in the graph below, are the relatively small coterie of designers and custom tailors -- high skilled professionals and service industry workers. Production jobs are expected to continue sailing offshore, where it can simply be done more productively.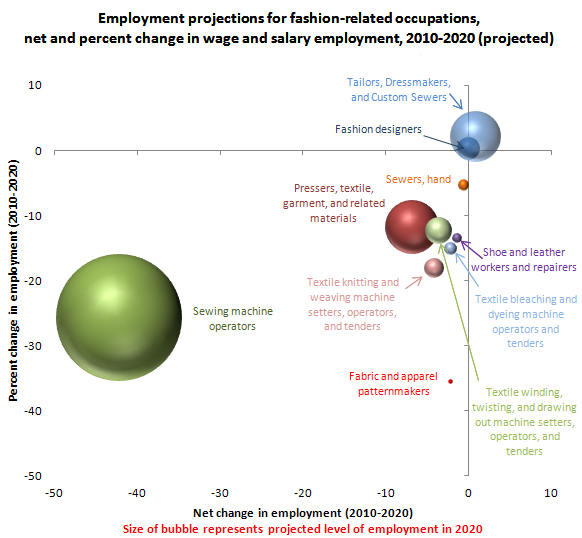 But is it possible that fashion has fallen behind the times, supply chain wise? Offshoring was the hot thing in manufacturing for the last two decades. Now, everyone is talking about on-shoring, where companies use automation to bring more of their assembly work back home to ultra-efficient factories. Is that a development we could see one day in clothing? Hard to say. But if the Pentagon can actually build that unmanned sewing machine they're working on, I wouldn't rule it out.