Even Without Movies and TV, News Corp Is Stronger Than the New York Times Co.
Rupert Murdoch has finally decided to split off his beloved but financially fragile newspapers from News Corp's profit-gushing entertainment properties, thus satisfying the yearnings of investors who would like to be able to invest in the Fox empire without subsidizing money losers like the New York Post.
The new publishing company, centered around the Wall Street Journal, will have to navigate all of the various and sundry challenges facing today's news gathering business. But just how healthy will it be? Will the WSJ be able to survive in the wild without the warm financial shelter of Fox News? To give you a sense of where it will stand in the media ecosystem, here's a graph comparing the last few years of operating profits for News Corp's publishing division to those of Murdoch's favorite rival, The New York Times Company.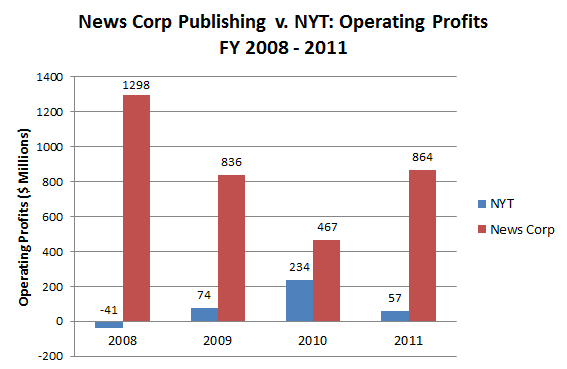 Obviously, News Corp's publishing profits, in red, have seen better days. They're down by about a third since 2008. But they're still making a better living than team Sulzberger at the NYT. Here's a comparison by strict revenue.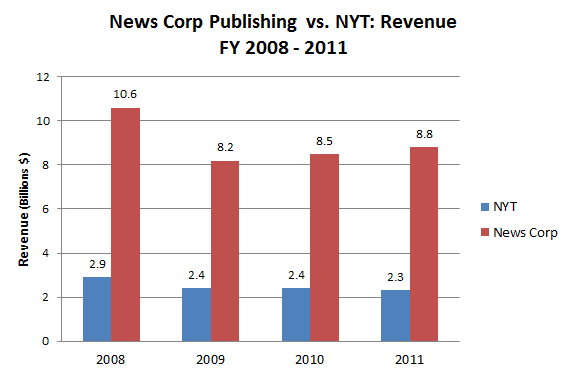 So yes, even cast away from the rest of News Corp, Murdoch's publishing properties generate about 4 times as much money as the NYT. Their margins from operations are also much fatter, at almost 10 percent last year, compared to around 2 percent for the NYT. Factor in that the new spinoff will start debt free, much unlike the NYT, and the competition becomes even more lopsided.
Newspapers are an embattled industry, and Murdoch's are no different, especially given the phone hacking scandal that engulfed his British publications. But of all the companies out there trying to eek out a profit from print and online journalism, News Corp's spin off still has a leg up on everyone else.