Economists: Tax Cuts Lose Money, and It's as Obvious as Evolution
If Mitt Romney and the Republicans sweep into power this coming November, we can pretty much be assured they'll try to revive the economy using tax cuts. Any chance that will work?
The University of Chicago's IGM Forum asked a panel of 40 economists about the matter, and got a pretty divided response. Just 35% percent definitely agreed. Another 35% were uncertain. Nobody asked how much tax cuts would grow the economy.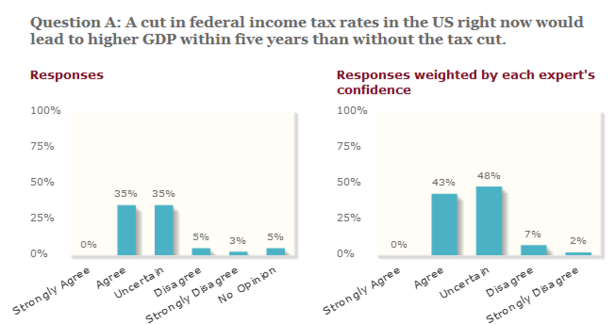 The survey's second question dealt with another plank of GOP orthodoxy: the "Laffer Curve," which is the idea that tax cuts will pay for themselves by improving the economy enough that taxable income will actually rise. Pretty much the entire panel rejected the idea, but the pithiest response probably belonged to former Obama adviser and University of Chicago professor Austan Goolsbee:
"Moon landing was real. Evolution exists. Tax cuts lose revenue. The research has shown this a thousand times. Enough already."