Dallas Fed President Explains the Weak Recovery in One Chart
If the U.S. was growing like Texas, we'd be golden.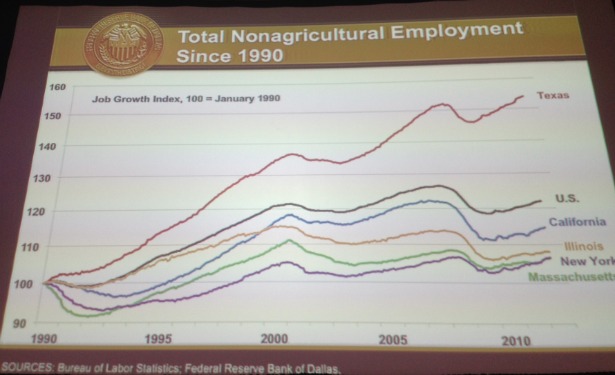 Who says the Fed is immune to provincial pride? In a freewheeling discussion with CNBC's Maria Bartiromo Thursday, Dallas Federal Reserve Bank President Richard Fisher couldn't help but point out how Texas has been crushing it in job growth compared to Uncle Sam. "As a nation, we're way behind," Fisher told attendees at the Aspen Ideas Festival in Colorado. 
Texas's "miracle" job growth is nothing new
, but it does play a role in the
current debate inside the Fed
over whether the central bank needs to be more aggressive in combatting unemployment. To Fisher, a vocal opponent of the Fed's
recent extension
of Operation Twist, the Texas experience explains why monetary policy is not the answer to the nation's current ills.
Notes from the Aspen Ideas Festival --
See full coverage
"We have the same monetary policy as the rest of the United States," he said. "Why are we outperforming the rest of the country?" He ticked off a number of qualities that make Texas stand out. "We have made ourselves more business friendly. We have no income tax. We have a regulatory environment that is more business and job friendly," he said. "I'm convinced since we all have the same monetary policy, if we had differentiation for pro-growth policies, we'd have more economic growth." 
Fisher emphasized that he wasn't trying to tell members of Congress what to do ("I'm not an advocate") but it's pretty clear he personally believes the country should mirror policies carried out in Texas--a prospect that would no doubt horrify Democrats. It should make the left sleep better that Fisher is a clear outlier in the Fed, though he opposed QE2 and Operation Twist, his colleague's overruled him. Amusingly, it's a role Fisher seems to enjoy. "I don't have a PH.D in economics," he said. "I'm very proud of that fact."