Construction Jobs Are at Their Lowest Level Since 1946
Someday we're going to need more construction workers. Today is not that day.
One of the no-good, just plain awful nuggets in Friday's
no-good, just plain awful jobs report
was the news that the economy shed 28,000 construction jobs in May. That brought the share of construction workers in the workforce down to 4.14 percent. As
Jed Kolko of Trulia
pointed out, this is the lowest level since July of 1946.
The chart below shows the depressing picture. (Remember: This is about the share of construction jobs out of the total number of jobs. The y-axis shows this percentage and the x-axis shows the relevant years).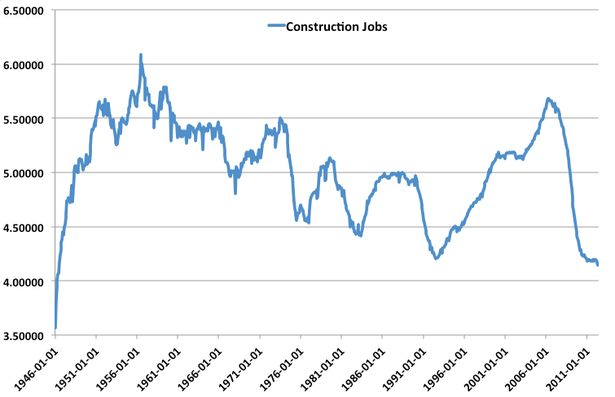 Eventually, things will turn around. It might even be soon. As bizarre as it sounds, we actually have a housing shortage now -- especially in multifamily units. We're already starting to see a rebound in
building permits
, but that's from an admittedly low base.
But even if there's a nascent recovery, that doesn't mean we shouldn't do more. It bears repeating: Constructions jobs are at their lowest level since we demobilized from the biggest war in history. With our borrowing costs at
historically low levels
, maybe we should hire some unemployed construction workers and have them, you know, make stuff.
But that's just crazy talk -- crazy talk you'd find in every introductory economics textbook.