Americans Are Still Swimming in Debt They Can't Pay
The Federal Reserve Bank of New York has released its quarterly assessment of America's household debt burden, and it's a vivid reminder of just how far the country still has to travel before it recovers from its pre-recession borrowing binge.
As shown in the graph below, total household debt currently stands at $11.44 trillion, more than a trillion dollars below it's 2008 peak. Unfortunately that only puts the country back where it was in the first quarter of 2007. The same goes for per capita debt: today, the average American owes $47,500, roughly the same as five years ago.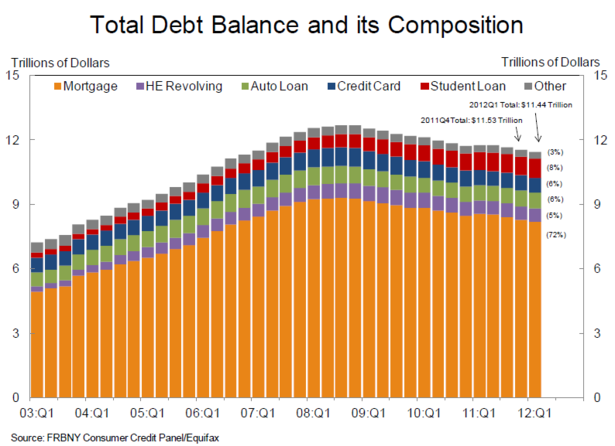 Borrowers are also still having trouble paying off what they owe. Households are current on 90.75 percent of their loans, up from the nadir of 88.1 percent at the end of 2009. It's about on par with where the country was in the fourth quarter of 2008, as the foreclosure crisis swelled into the financial crisis.
The U.S. has a lot of deleveraging ahead. It's going to be painful. But until it's done, households are still going to be haunted by the bad financial decisions they made before the bubble era went bust.