American Austerity: Why the States Cutting Spending Are Doing Worse
It's not working on that side of the Atlantic. And it's not working over here, either.
It's not working on that side of the Atlantic. And it's not working over here, either.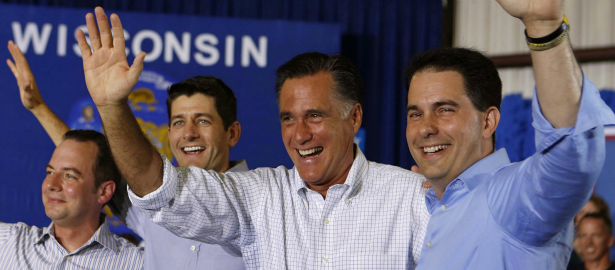 Reuters
Austérité isn't just for the Europeans. In November 2010, Republicans running on an anti-stimulus platform crushed Democrats in Washington and across the country and promised to start slashing spending to unlock growth.
How's that going? Adam Hersh compares the 20 states have cut public spending with the 30 states that have expanded spending. Here's his upshot graph (note that the metric is group median):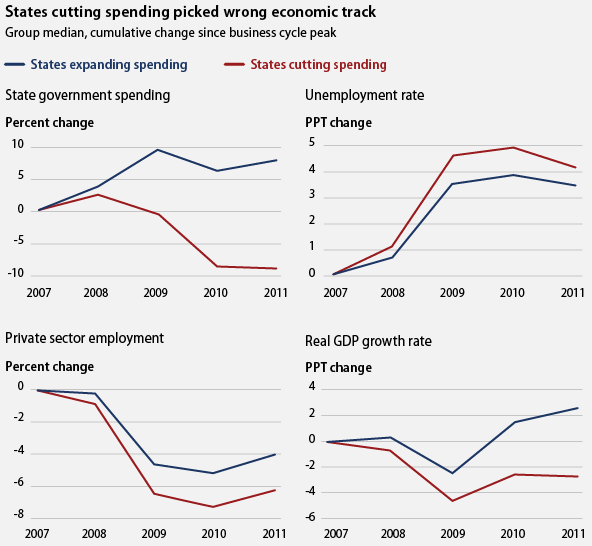 Is it possible that the states with deep budget cuts were also the states that would have grown slower anyway? Yes, it possible. States and cities with worse local economies have further to go to close their deficits. Do these figures tell us that high public spending is good for long-term growth? No, they don't.

What this report does tell us, however, is that there isn't any evidence that austerity does any good in a situation like ours. If I thought that the U.S. could competitively devalue our currency, run up a huge trade surplus in a global boom, and export our way to breakaway growth, please believe that I would be riding the Austerity Train hanging off the side of the economy car waving Scott Walker banners and whistling the Bill O'Reilly outtro theme. But we're not a small Scandinavian country, and it's not the 1990s, and every other major economy is either decelerating or exploding, and investors are paying us to hold their money. Tell me how austerity leads to growth again?

>