3 Charts Explaining How Moms and Dads Balance Work and Family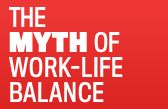 A debate on career and family
See full coverage
Anne-Marie Slaughter's controversial cover story for The Atlantic this month acknowledges a simple point: There is a "family cost" to your career and a "career cost" to your family. Time is finite, even if our ambitions aren't.

This is a trade-offs millions of parents recognize every day. Today, even with women accounting for a nearly equal share of the labor force, it is still the case that working mothers spend much more time with their children than working fathers.
How much more? We can answer that question in graphs, thanks to the Bureau of Labor Statistics' monthly review of working parents from 2008.

(1) More kids means less full-time work -- but only for mom. More than 90% of married men aged 25-54 were employed full-time, with or without kids, BLS found. Meanwhile, for each additional kid, full-time employment for married women declined by about 10 percentage points. Only 24% of mothers with four or more kids works full-time, compared with more than 80% of married fathers.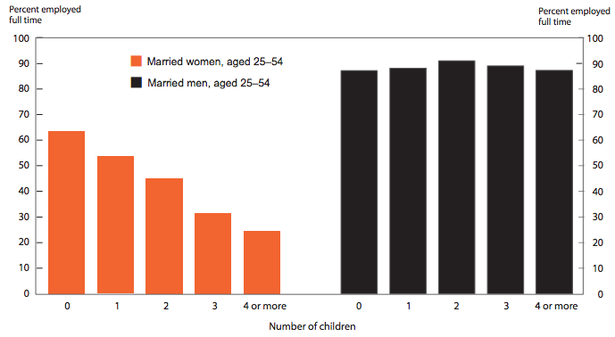 (2) Older kids means more full-time work -- but only for mom. The next graph looks at mothers, only. It groups employment by the age of the youngest kid. When the youngest child is a teenager, mothers are about 75% more likely to be employed than when the youngest child is under 5 years old.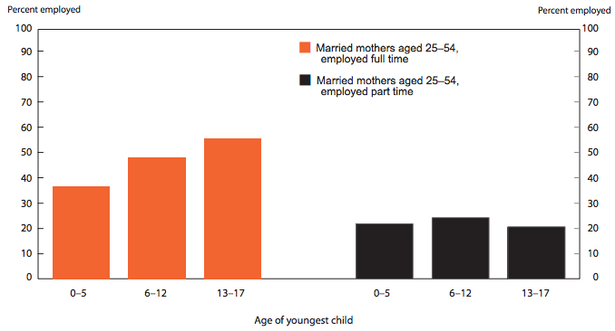 (3) Why fully employed mothers spend more time taking care of their kids than fully employed dads.  My favorite graph from the BLS looks at how fully-employed mothers and fully-employed fathers spend time with their young children. The biggest point is that these mothers spend more time than fathers providing primary childcare -- 1.8 hours to 1.1 hours. While both spend similar hours reading, playing, and talking with children (~ 24 minutes), the difference is starkest in the area of "physical care" (i.e.: feeding or bathing children) and shuttling kids between their various activities. In other words, fully employed moms still bear most of the driving, washing, and feeding responsibilities, even if fathers spend roughly equal time playing with and reading to their kids.