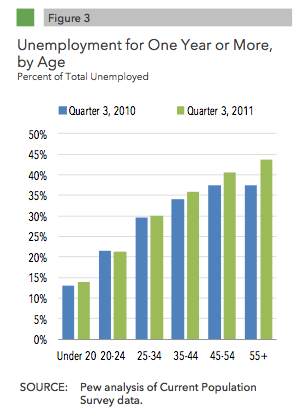 We have, on this site, focused like a laser beam on the job crisis for the young. But today, a compelling report from the GAO reminds us that among those who have lost a job, older Americans might just have it worse.

Actually, they absolutely have it worse. Americans over the age of 55 are the least likely to find another job and the most likely to take a significant pay cut for the next position.
Who they are: Since 2010, more than half of all unemployed older workers -- or 1.1 million people over the age of 55 -- have been out of a job for more than six months. Forty-two percent have been out of work for more than a year (see graph).

Even when older people find new work, the new wage is typically only 85 percent of the old salary. By comparison, typical displaced worker between the age of 20 and 54 finds a new wage that's at least 95% of the old salary.

Why they can't find work: There's the health care reason and the technology reason. Experts told the GAO that employers are reluctant to hire older workers because they "expect providing health benefits to older workers would be costly." Others said computer skills often hold back the elderly, especially when the job application is all online.