Who Will Save Clean Energy?
The "fiscal cliff" refers to the double-whammy the U.S. could face in early 2013, when trillions in tax hikes and domestic cuts are scheduled to kick in. But clean energy is facing its own fiscal cliff, which could provide an even sharper drop.
Annual federal clean tech spending is already down $10 billion between 2009 and 2011, as the Recovery Act has wound down. Now it's on pace to fall by more than 50% year-over-year in 2012, and decline yet again in 2013, and again in 2014. At a time when China is investing nearly $1 trillion in clean tech projects, Washington is waving the white flag on green. After renewable electricity, clean tech spending for other energy sources will slow to a trickle.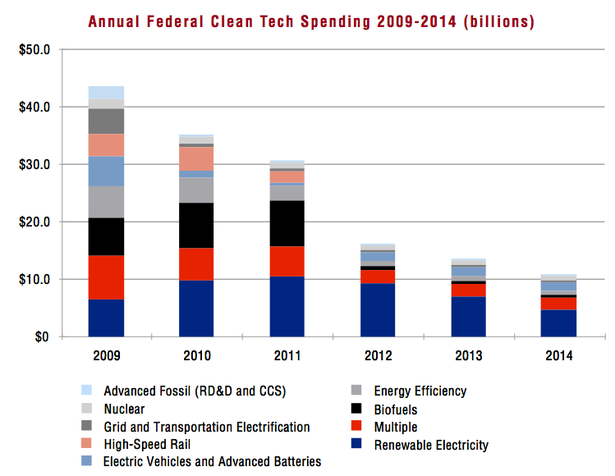 Mark Muro, senior fellow at the Brookings Metropolitan Policy Program, explains the implications in a new report:

The end of the present policy regime therefore offers the opportunity to implement smart reforms that not only avoid a potential "clean tech crash" but also accelerate technological progress and more effectively utilize taxpayer resources. Well-designed policies that successfully drive innovation and industry maturation could provide US clean energy sectors a more stable framework within which to advance towards both subsidy independence and long-term international competitiveness.