This Should Be the Most Expensive Bond in the World
At this rate, it won't be long until you see cash-for-bonds commercials
Government bond yields continue to crash to all-time lows the world over. You can thank Europe for that. Investors worried that we might be witnessing the death throes of the common currency are stuffing their money into mattresses -- mattresses called government bonds.
But there's one bond that
should
be the most expensive in the world. (Remember, bond yields move inversely with prices). That's German bonds. Consider the chart below from
Bloomberg
, showing the yield on German 10-year bonds over the past year.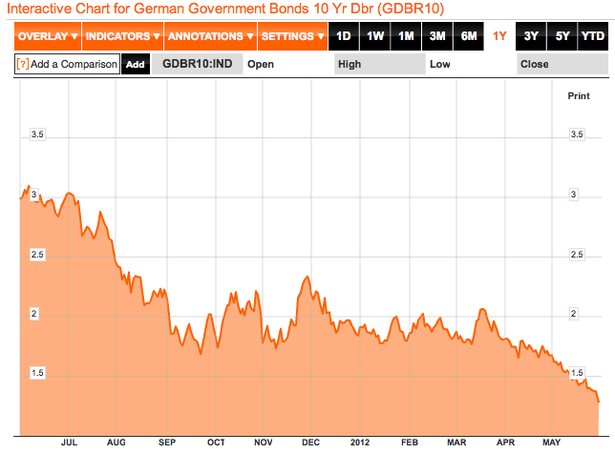 It's hard to tell, but that's a yield of 1.2 percent over ten years. Before inflation. It's not quite the 0.82 percent yield on Japanese 10-year bonds, but it's catching up -- something that German 30-year bonds have basically
already done
with Japanese 30-year bonds.
There are four broad reasons why German borrowing costs are lower than most others -- all of which are really due to the euro. First, as
Joe Weisenthal
has pointed out, the common currency creates a bigger potential pool of buyers for German bonds than would normally be the case. There are typically two natural buyers for a country's bonds: Its people, and the people it's run a trade deficit with. Both groups have the currency the bonds are denominated in, and want a safe place to park that currency. But there are sixteen other countries that share the euro with Germany. So there's a continent's worth of demand, but not a continent's worth of supply for German bonds.
But why is there so much demand for German bonds? The euro has been around for a decade now, but German bonds haven't been nearly so expensive this whole time. It's about the flight to safety and the flight to collateral. In other words, German bonds are more valuable because other European bonds aren't. Banks need bonds for collateral. But with Spanish and Italian bonds collapsing, Spanish and Italian banks would prefer to get their hands on German bonds.
German bonds are also a form of apocalypse insurance. If the euro does break-up entirely, it's possible that German bonds will be redenominated from euros into new marks -- marks that will presumably be worth a good deal more than euros. Eurogeddon would mean quite a windfall gain for holders of German bonds.
There might be only way for German yields to go. Down. That would mean there's only one way for German bond prices to go. Through the ceiling.