This Is What Happens When Your Small Local Town Finds Oil (Hint: $)
In 2008, drilling companies discovered prodigious amounts of accessible crude under the Eagle Ford Shale formation in Southeast Texas. Development was derailed a bit due to the recession, but from 2010 to late 2011, the impact on local paychecks has been staggering. Average wages in the region have grown about 14 percent. Total wages shot up 25 percent. And in the top five earning counties in the area, they've grown 63 percent.
Here's a graph of that transformation from new report by the Federal Reserve Bank of Dallas. Total wages are shown in the red line, job growth in the blue bars.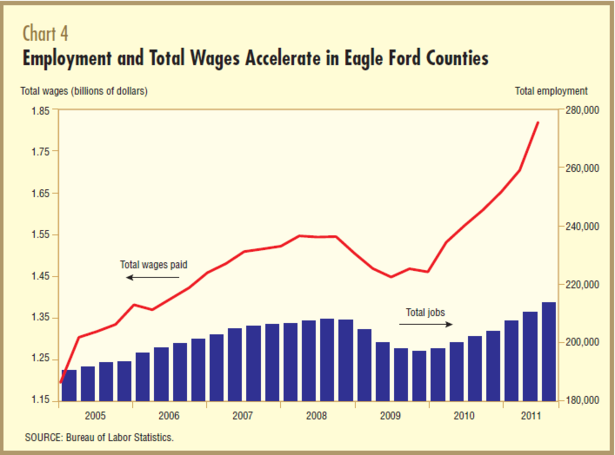 The effect on jobs has been significant, if not quite as dramatic. Overall, employment grew by about 15,000 between 2010 and late 2011, or roughly 5.9 percent a year. It's not a giant leap from where the region was pre-recession, when it was mostly known for natural gas production.
So what does this tell us in the big picture? First, drilling will make a region wealthy, but it won't necessarily generate mass employment. Second, while gas may be a boon for a local economy, it's nothing compared to the riches oil will bring. Oil is considerably more profitable than natural gas. And with profits come paychecks.