The Nose Dive: What the Heck Happened to Our Prime-Age Workers?
Here's a picture Republicans love to show off and Democrats love to ignore. It shows the percentage of people between 25 and 54 who have a job -- regardless of whether they're looking for work or are in school or not, from the
BLS.
See if you can spot when the recovery kicked in.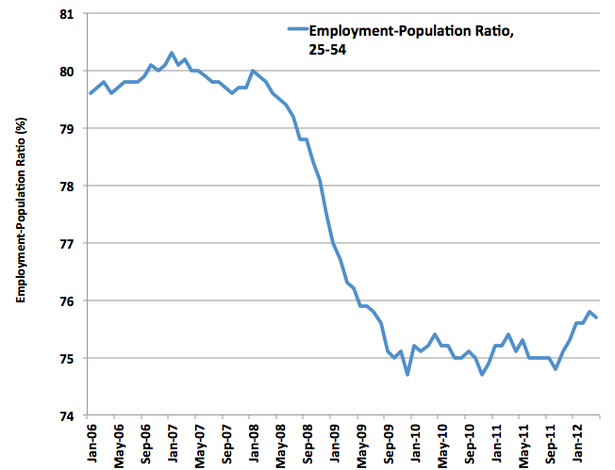 You know when the recession began. That's the nose dive. And it's not hard to tell when the recession ended. That's when the nose dive stops. But what about the recovery? We never really got one. We got wiggles instead.
As
Peter Whoriskey
points out in the
Washington Post
, the current employment-population ratio for 25 to 54 year-olds is the lowest it's been in the 23 years that preceded the financial crisis. The mini-jobs surge this past winter was the closest thing we've had to a real recovery, but even with it we're still in a deep, deep hole.
It's really remarkable that we've spent the past three years debating deficits and inflation when the jobs picture is still so grim. Tragic, actually. Not just for the people who want work and can't find it, but for all of us. The longer we take to put people back to work, the bigger the hit to our collective human capital -- and long-term productive capacity. We need to stop wiggling.