The Murky Ethics (and Crystal-Clear Economics) of the Unpaid Internship
Unpaid internships are on the rise. Tell us your stories -- and your opinions -- about working for no pay

Update! Read the our double-barreled commenter response. In defense of unpaid internships, here. Against unpaid internships, here.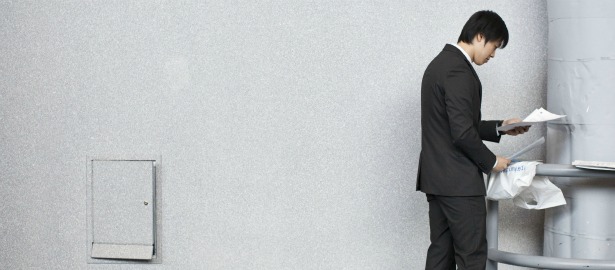 Reuters
My name is Derek, and I was an unpaid intern.
I begin with a confession, because the unpaid internship has become something of a dishonor, if not a scandal. And, as New York Times reporter Steven Greenhouse wrote in his blockbuster take-down of the institution in 2010, I might have helped various companies conspire to break the law -- even if it's the murkiest, most broken law in the country.
Of the 10 million students at four-year colleges in the U.S., more than 75% have at least one internship before graduating. We don't know how many of those internships are unpaid, but Ross Perlin, the author of Intern Nation, estimates that it's up to one-third. "It's the only major category of work that I know of that is not tracked at all by the Bureau of Labor Statistics," Perlin said.
NOT PAID, NOT LEGAL?
If you've ever had an unpaid internship, there is a distinct chance that you participated in unlawful activity.
The Labor Department has strict guidelines for unpaid interns, and every year, thousands of companies dutifully flout them. Technically speaking, internships must resemble an education rather than a job. Interns cannot work in the place of paid employees. Nor can their work be of "immediate benefit" to an employer.
Every unpaid intern I know -- and every unpaid internship I've had -- broke at least one, if not all, of these rules. And repeatedly. We worked nine hours a day or more. We shared work with salaried co-workers. We strove to provide "immediate benefit" to our employers, in the form of fetching drinks, organizing bookshelves, writing briefs, editing documents, fiddling with Excel, and presenting ourselves as free safeties of the office -- happy to roam, eager to tackle something new. This is what we knew to do. This is what college students do with their summers.
And, increasingly, it is what college graduates do with their full years. The official unemployment rate for 20- to 24-year-olds was 13.2% in April. But the unofficial numbers are staggering. Less than 50% of students graduating between 2009 and 2011 found a full-time job within a year of finishing school, according to the John J. Heldrich Center for Workforce Development at Rutgers University. There are no hard numbers on internships and unpaid internships, and therefore no numbers on any rise or fall in internships. But in this environment of few jobs and record numbers of college graduates, it is reasonable to think unpaid internships are on the rise.
Earlier this year, a former intern with the Hearst Corporation sued over her unpaid internship. You can blame the companies for side-stepping a unrealistic law. You can blame the law for vagueness. You can blame the interns for settling for zero-pay, or even the colleges for not offering credit for vocational experience. Less than 30% of colleges offer academic credit for internships, according to the National Association of Colleges and Employers.
But I worry the problem is somewhat intractable. I loved my internships. I wouldn't be where I am without them. But I also recognize that my parents' income afforded me those internships. Without their summer cash, I would have had to seek work at Best Buy, or Starbucks, or another place that paid more than zero dollars an hour. As students of privilege cluster in posh unpaid internships that open doors while lower-income students cluster in retail and food preparation jobs, income inequality yawns. Having extra money allows for unpaid internships, which lead to jobs that pay yet more money. Even if unpaid internships are a win-win for employers and students, this is not what egalitarianism looks like.
How do we fix it? I'm not sure. But I want you to tell me. Share your internship experience or perspective in the comments below, and I'll round up the best ones and publish them in a new post on this blog later this week.