The Funniest Graph I've Ever Seen About Why the Euro Is Totally Doomed
If you spun a globe and stopped your finger 12 times on 12 random countries, they just might make more sense for a monetary union than the euro zone.
That's the conclusion from this awesomely clever chart showing the difficulty, and maybe impossibility, of the euro experiment (click to expand).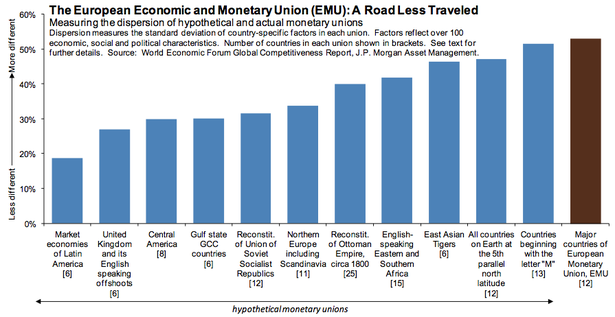 Here is what this chart shows. Compared across more than 100 factors measured by the World Economic Forum Global Competitiveness Report, from corruption to deficits, JP Morgan analyst Michael Cembalest calculates that the major countries on the euro are more different from each other than basically every random grab bag of nations there is, including: the make-believe reconstituted Ottoman Empire; all the English speaking Eastern and Southern African countries; and all countries on Earth at the 5th parallel north.

And here is your tweetable fact: A monetary union might make more sense for every nation starting with the letter "M" than it does for the euro zone.

If you find yourself wondering, as I did, how the 50 states within the U.S. would compare across this measure of dispersion, remember that the nice thing about the United States is that baked into the first word of our name is not only a monetary union (i.e.: we all use dollars) but also a fiscal union. If Mississippi has a bad year (or decade, or century), Washington doesn't debate whether we should force the state to raise taxes or cut spending to become more competitive. We just keep paying it Medicaid, which is basically a transfer from rich Americans to poor Americans, many of whom live in Mississippi.

Germany doesn't want to establish any sort of "Peripheraid" -- a permanent transfer program from the core to the periphery. And that's why you should be about as optimistic about the future of the current euro zone as you are about a monetary union for the all the countries in the world that start with the letter "M."