The Difference Between the U.S. and Europe in 1 Graph
The euro zone has Greece. The United States has Mississippi. Or Missouri.
The difference between the U.S. and Europe is that when the Greek economy "pulls a Mississippi" (or perhaps I should say, when Mississippi "pulls a Greece"), the EU and the U.S. have 180-degree opposite reactions. Over here, we calmly write checks to Mississippi in the form of Medicaid and unemployment insurance, no questions asked. Europe has no comparable "Peripheraid" for its weak peripheral states. Instead, it has chaos.
Michael Cembalest, the JP Morgan analyst and author of the my favorite new chart about monetary unions -- it's not a crowded field, admittedly -- passes along another clever graph which shows fiscal transfers (don't worry, that's just another word for money) between the rich California-Connecticut-Illinois-New Jersey-New York quintuple and poorer states like Tennessee. If similar, seamless transfers existed in the EU, the rich north would have to send to Portugal and Greece at least an additional 30 cents for every dollar they paid in taxes, year after year after year.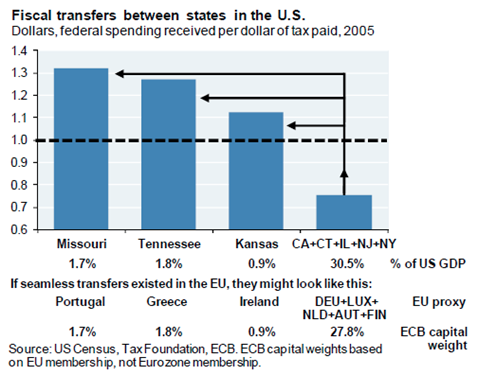 When you hear commentators say, "the euro zone must begin to transition toward a fiscal union," what they are saying, in human-speak, is that the Europe needs to be more like the United States, with balanced budget laws for its individual members and seamless fiscal transfers from the rich countries to the poor, to protect the indigent, old, and sick, no matter where they reside.

The Germans call this sort of thing "a permanent bailout." We just call it "Missouri."