The Big Idea That Can Revolutionize Higher Education: 'MOOC'
Massive open online courses combine the best of college -- exceptional instruction -- with the best of technology -- online interactive learning
Massive open online courses combine the best of college -- exceptional instruction -- with the best of technology -- online interactive learning. Is this the future of efficient, effective education?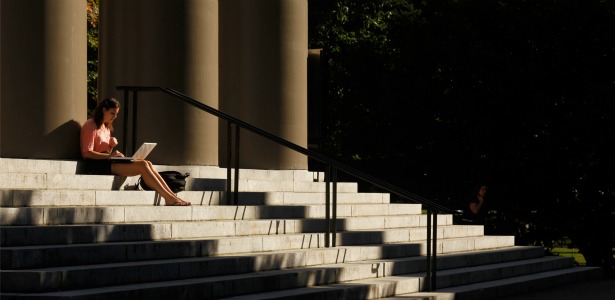 Reuters
In the historic sweep of technology, higher education stands apart as a bastion of old-fashioned thinking. But in anticipation that the information revolution is coming for colleges, Ivy League colleges are competing to create online classes without the Ivy League price tag and without the Ivy League admission hurdles. In a recent article in the New Yorker, the President of Stanford, John Hennessy said, "There's a tsunami coming."
Daphne Koller, a professor of Computer Science at Stanford University and the co-founder of Coursera, a free online classroom, believes that Hennessy is right. "The tsunami is coming whether we like it or not," she said. "You can be crushed or you can surf and it is better to surf."

Coursera is a massive online open classroom -- or MOOC -- that operates in conjunction with four top universities - Stanford, University of Pennsylvania, the University of Michigan, and Princeton. Co-founded by Koller and Andrew Ng, Coursera currently offers forty classes on topics ranging from poetry to robotics. Like a traditional class, each online class is comprised of a series of video lectures with PowerPoint slides. Students can participate in discussion boards and are graded on the assignments. Students who complete the course with passing grades receive a certificate of completion.
Earlier this month, Coursera was joined by another Ivy League MOOC, edX. EdX, a joint education venture run by MIT and Harvard, will begin offering online classes in Fall 2012. About 120,000 students signed up for the first MITx course, "Circuits and Electronics,'' in March. In a video on their website, President, Anant Agarwal, explained that like Coursera, edX classes will be open to anyone.

Students who complete the course would be offered a certificate, rather than college credit.
Coursera and edX have more in common with the Khan Academy than with the typical online classes offered by most colleges and for-profit enterprises, like the University of Phoenix. The Khan Academy began as a series of lectures given by Sal Khan, a hedge fund manager, to help his cousin with her math homework. He uploaded his explanations to algebra problems to YouTube and was surprised when his videos began to attract a huge following. With backing by the Gates Foundation and Google, the Khan Academy now features 3,200 videos on everything from math to history.
A 'TARGET' FOR COLLEGE

Offer high-quality products at a low price, consumers tend to notice. When Target offers clothes from couture designers like Missoni and Rodarte, the stock disappears within a few hours. The same goes for higher ed: Huge numbers of people are also flocking toward bargain basement Ivy League classes.
Coursera has attracted vast numbers of students, and its reach expands exponentially every day. In the Fall quarter, 104,000 students signed up for Stanford's Machine Learning class. Koller explained that 60 percent of those students seemed be simply curious and did not continue the class. 40,000 students submitted assignments and 20,000 did a substantial amount of work. The grading curve was set relatively high. Only 13,000, or 65%, received certificate of completion rate. Considering that a typical college class serves twenty to thirty students, 13,000 successful students is a considerable feat.
These classes seem to attract a largely international student body. Koller said that using data from IP addresses, 60-67% of the students come from the international community, but those numbers vary depending on the topic of the course.
She said that most of the students seemed to be professionals who need to expand their skills, such as a computer programmer who needs to master a new programming language. These classes also attracted students who were enrolled in universities that did not offer a particular class or a course was not offered at the right level. The rest of the students were extremely diverse individuals, including 13-year olds and retired grandmothers. She expects the diversity of students will expand as they introduce new classes in the Liberal Arts.
THE NEW TA (THE 'T' STANDS FOR 'TECH')

Using new technology and crowd sourcing innovations, both programs hope to bypass the problem of needing human beings to moderate discussions and grade assignments.
Multiple choice tests can be easily graded using technology, but essays, the most accepted form of assessment for the humanities and the social sciences, have proven to be trickier. It would be impossible to hire enough people to grade the essays for a class that served 20,000. At Coursera, three engineers worked for two months on creating a system similar to Amazon Mechanical Turk for peer evaluation. This program will launch in about a week. EdX will use essay-grading software.
Discussions are moderated by peers who "vote" good comments up on the discussion board. Bad comments and spam are pushed to the bottom of the discussion threads by voters.
After the videos are created, the assignments are written, and the initial kinks are ironed out, Koller expects that these courses should be self sustaining and run on auto-pilot.
EdX and Coursera are funded differently. EdX is overseen by a not-for-profit organization, which is owned and governed by both universities. MIT and Harvard have committed to a combined $60 million ($30 million each) in institutional support, grants and philanthropy to launch the collaboration.
Coursera received $16 million from two of Silicon Valley's largest venture capital firms: Kleiner Perkins Caufield & Byers and New Enterprise Associates. Universities produce the content production. Coursera, a double bottom line business, hosts and streams the lectures. After the program begins to make a profit, then funding will then flow back to the universities.
While they don't expect a financial winfall, the promoters of these ventures hope to monetize these programs in the future, so they don't become a drain on the university's finances. Both programs may charge students a small fee for their certificates. Koller said that Coursera might also work with the business community to use their databases for recruitment purposes.
Those who design these programs expect to expand course offerings in the future and add college collaborators.
With no obvious financial benefits, some wonder why these schools are investing so much time and energy into these efforts. Koller believes that colleges must open their classrooms in order to stay ahead of the technology curve. On the video presented on the edX website, Aragal explained that edX will increase knowledge about learning and supplement classes at the university.
MOOC POWER
While these programs have already shown success at reaching large numbers of students, it is not entirely clear how MOOCs will impact existing systems of higher education.
Koller believes that universities will have to change, because they will not be able to charge students for content any longer. College are going to have to emphasize other facets of university life, such the community of scholars and students, in order to survive, she said.
But this is key: American students still need the credentialing from American colleges for employment. A college degree is more than an education. It's also a signal and a threshold for employers. A college degree, rather a certificate of completion, is the ticket to middle class careers. Also, classroom learning cannot be replaced by a program created by engineers. The back and forth between students and professor will be lost -- a key part of learning in the college classroom. While technology makes it possible to provide lectures to millions, it decrease quality, just as the quality in couture gowns is lost when Target manufactures them. With a monopoly on credentialing and a superior method of providing a liberal arts education, American higher education is under little threat from MOOCs.
Creating a classroom video is also a somewhat risky venture for Ivy League professors. The videos of the lectures on Coursera were surprisingly low tech. In one class, a late middle aged man in a short-sleeved, buttoned down shirt read his lecture notes from a teleprompter. He was accompanied with black text on white screen PowerPoint slides. Discussants complained that the lectures were very boring. Boring lectures don't do much for the Ivy League brand, and it may be difficult to convince more college faculty to jump on board.
There is no question that this is a great opportunity for the autodidact. The poor farm kid in Nebraska, the retired grandmother, a young girl in India will all have access to ideas that were beyond their grasp before. This opening of classrooms is part of the inevitable movement toward greater access of information.
There are other clear benefits of these programs. They also offer high school students the opportunity to pre-shop for college majors. Colleges students can supplement their learning, just as I use the Khan Academy videos to supplement my middle school student's math classes. It may have the most potential for the global community, which is increasingly eager to replicate American systems of higher education.
Revolutions often do not often unfold according to plan. The technology revolution may not have the outcomes that its visionaries expect, but the sheer numbers of students enrolling for these classes does signal that changes are happening.
>