The 10 Big City Regions With the Best (And Worst) Unemployment
Need a job? Move to Oklahoma City if you're into open space. Or maybe Washington, DC, if you're a political nerd. Or, even New Orleans, if you'd like liberal open container laws.
This week the BLS released its analysis of the employment situation across Americas major metropolitan areas. I've broken down the ten big city regions faring best and the ten faring worst into the two graphs below.* First, here's where the job markets are relatively thriving.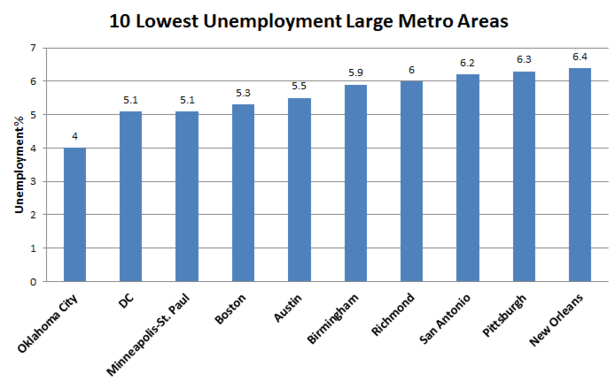 There are a few common threads through this group: energy, health care, education, and government. Most of these cities are home to some combination of those industries, all of which are growing or are at least relatively stable. Most were in regions that avoided the worst of the housing bubble and the subsequent bust. Now for the jobless metros.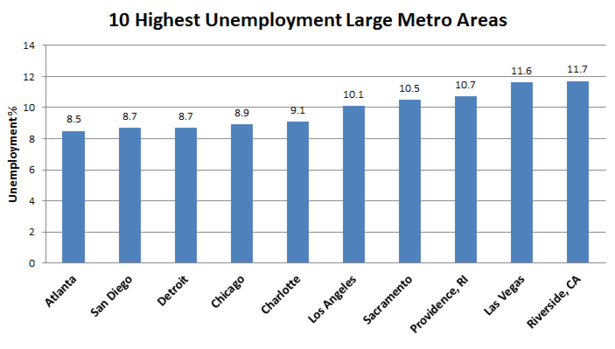 There's a pretty definitive split -- on the one hand, we have Sun Belt states across California and the Western U.S. that are still struggling with the aftermath of the housing collapse. Then there are the areas, such as Chicago, Atlanta, and Los Angeles with large, inner cities that have suffered long-term, persistent unemployment. And of course ever-embattled Detroit, which despite it's inclusion on this list, actually had the largest unemployment drop of any metro region over the past year.
_______________________
*I've defined "big city region" as a metro area with a civilian work force of at least 500,000. The BLS data includes 48 total. Also, each metro is referred to on the graphs by their major city. http://