Surprise! The U.S. Is Stealing Jobs From China
In the last couple of years, the United States has pulled off an unexpected trick: we've started taking jobs from China. Rising labor and transportation costs abroad have changed the economic math enough that, after more than a decade of sending manufacturing overseas, companies like General Electric have started bringing some of their production lines back home.
It's called "reshoring," and it's a global trend where factories have moved from the developing world to the developed world, nearer to where their products sell. How big is this movement? According to a
recent report
by the Hackett Group, the share of "reshored" manufacturing capacity will double from 9% between 2009 and 2011 to 19% between 2012 to 2014.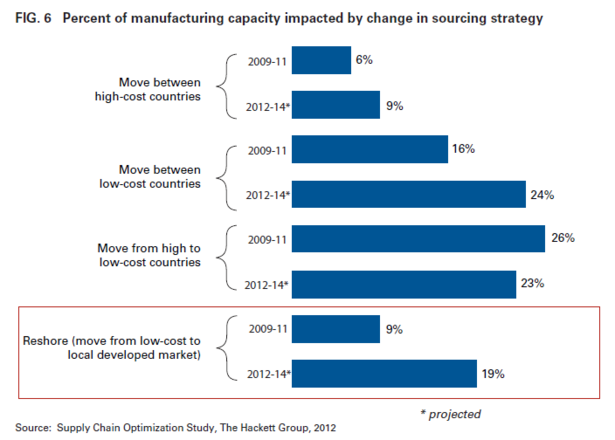 But while some factory work is coming back to the rich world, much of it is still heading to low cost countries. As the chart shows, Hackett expects 23 percent of the world's manufacturing to move from expensive nations to cheaper ones in the coming years.
In short, manufacturing will continue getting shuffled around the globe. Thailand might start stealing more cheap t-shirt mills from China, thanks to its even skimpier labor costs. The U.S. might yank back more car manufacturing from Mexico, since it makes sense to build cars close to where you'll sell them. And more semiconductors fabrication might head from Saratoga to Shenzen, as the global electronics supply chain is now unquestionably centered in Asia. But at least the one way march of factory jobs away from the developed world seems to have stopped.