Singapore: Miracle at the Center of the World
One of the globe's smallest countries is also one of its richest cities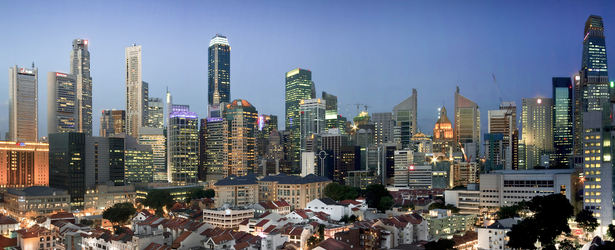 Yes, it's a "miracle."
Singapore, which in the middle of the 20th century was jerked around like a rag-dog between the occupying British, the invading Japanese, and a violent independence movement, emerged decades later as one of the world's busiest ports and friendliest destinations for international business.

Mapping the new global power structure
See full coverage
But like any seemingly sudden transformation, this revolution was centuries in the making. When
the British envoy Sir Stamford Raffles founded a trading station there 1819, the island was not much more than a swamp, The Economist observes, concluding that "a century-and-a-half serving the trading interests of [the British Empire] turned that swamp into a thriving port." International business is sewn into the city's DNA.
Today Singapore is a model for both developmental economists focused on executing quick turnarounds in Africa and Asia and for U.S. wonks who marvel at the small nation's pro-market policies, affordable health care, world-leading education scores, and exceptional wealth and growth. The following charts, gleaned from the Milken Institute's Global Conference drill down into the sources of American envy. It is, by various counts, the easiest place in the world to do business, the best port of access for the vibrant Asian market, the world's leader in high-tech exports, and the globe's most impressive assortment of human capital.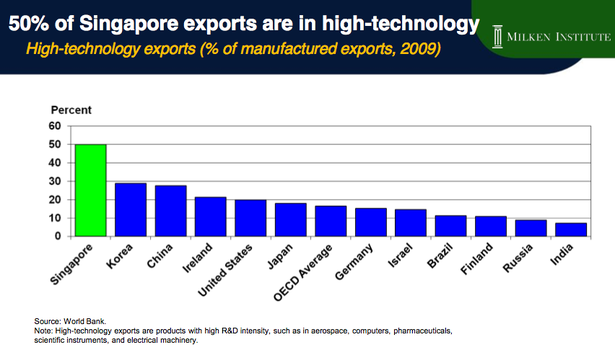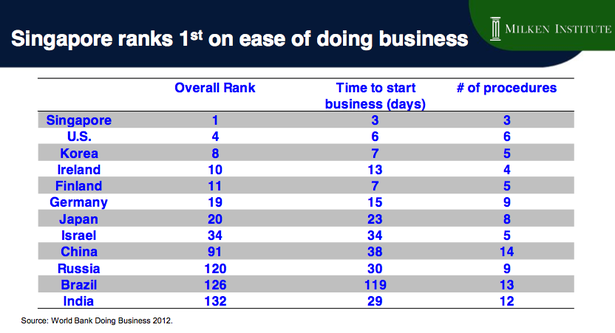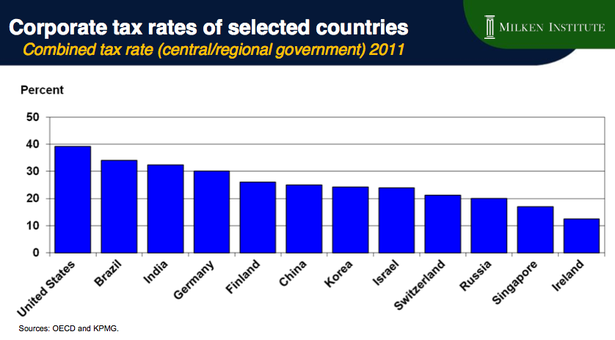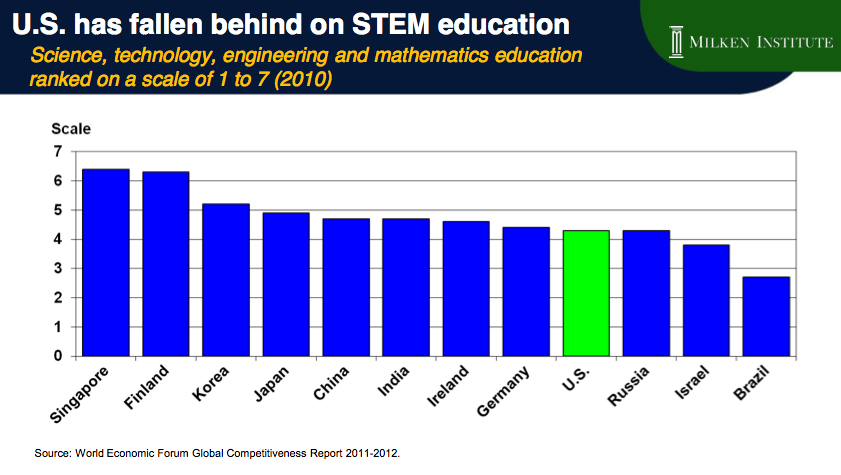 Singapore is about as rich as the United States on a per capita basis, but whereas America's wealth comes from within, Singapore's wealth depends on others. The United States is a huge consumer-based services-driven economy. Singapore is a small, export-based, manufacturing-heavy state. At a time when the United States is debating building a wall to keep out Mexicans, Singapore's wealth is predicated on attracting businesses and foreign workers. When Facebook co-founder Eduardo Saverin announced that he would renounce American citizenship before the company's IPO, it was broadly assumed that he was interested in avoiding U.S. taxes on his billions in stock wealth.
Half of Singapore's export revenue comes from four sources: Malaysia, Hong Kong, Indonesia, and China. In the World Bank's measure of exports share of GDP, the United States finished near last place with 13% in 2010. Meanwhile, Singapore finished second with 211%. This might be overstating things, since export value is difficult to track in global supply chains and Singapore (like Hong Kong) is such a popular port. But according to the state's own figures, net exports of goods and services accounted for nearly 30% of GDP in 2011. The vast majority came from mineral fuels, electronics, and chemicals.
Singapore's status as a global juggernaut cuts both ways. When Asia grows and trades, Singapore takes a cut. When But now that China and other Asian countries seem to be slowing down, the government expects 2012 growth to soften. In its economic development report in March, the Monetary Authority of Singapore concluded:
The Singapore economy has slowed discernibly since Q2 last year on a sequential basis. Export-oriented sectors such as electronics and wholesale trade were affected by sluggish external demand and slowing global trade flows. Sentiment-driven financial services also saw a significant pullback alongside heightened risk aversion in global financial markets. However, this was partially mitigated by higher value-added production from the biomedical sector, as well as some resilience in the financial intermediation and tourism-related clusters.