Silicon Valley's Next Big Thing: Beer
The nostalgia business reaches new heights.
It's sometimes said that Silicon Valley has given up on real innovation. Everyone is in the hunt for the next Zynga. Nobody cares about solving big problems.

If you thought the social media bubble was a sign of trouble, though, let me introduce you to Churchkey Can Co., the "retro beer company" that's become "a new tech investor darling," according to TechCrunch. Churchkey was co-founded by Entourage star Adrian Grenier. It reportedly brews a pretty decent pilsner, which it sells in a steel cans with sealed flat tops, just like they used to package beer back in the 1950s and 60s. You know, the way real men like Don Draper drank it. In order to open the can, you have to puncture the it with an actual churchkey, one of which comes with each six pack.
There is, quite literally, no innovation here. It's a throwback marketing gimmick, the sort of thing that you imagine going over well in a Brooklyn fancy food shop, shelved near the artisanal mayo and the locally pickled okra. It's for people who like trading convenience for nostalgia, like authors who still use a typewriter. And yet, the company has been backed Michael Arrington's CrunchFund. It's also rumored to have attracted investment from executives at Facebook and Zynga. Today, Grenier and his partners appeared at the TechCrunch Disrupt conference to pop open some brews on stage and talk about their project.  
Now, Silicon Valley types are perfectly entitled to throw their money at the beverage business on a lark. And there are a few numbers they could even use to try and justify it. The craft brewing industry is the fastest growing segment of the U.S. beer market. In 2011,
sales were up
13 percent by volume, and 11 percent in dollars. Overall, domestic beer sales slid 1.3 percent. Compared to mass market labels like Budweiser and Miller Light, craft brews also earn higher margins.
But that's about as far as the upside goes. First off, the market is crowded. There are already
about 2,000 breweries
operating, including about 250 new ones that opened last year. Getting a new brewery off the ground is a painstaking process that involves convincing distributors in each state to sell your product. The commodities markets can wreak havoc on your bottom line, or force you to raise prices. And even if you're wildly successful, the profit margins still aren't necessarily that great. Consider two of the top players in the industry, Craft Brewing Alliance, owner of Red Hook and other small brands, and Boston Beer Company, maker of Sam Adams.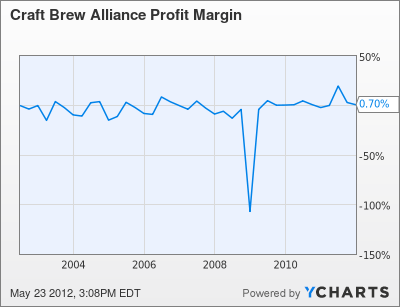 HOOK Profit Margin data by YCharts
Yep, that's right, 0.70 percent. Pretty measly.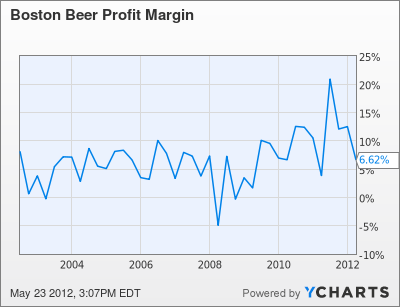 SAM Profit Margin data by YCharts
Sam Adams has fared significantly better, mostly ranging between 5 percent and 10 percent profits over the past decade. Its stock has also performed very nicely, rising from about $20 in 2009 to $105 today. On the other hand, it's Sam Adams, the single largest American-owned brewery, the biggest success story in the modern history of craft beer. 
Perhaps Churchkey has some sort of secret plan to top those results, to really "disrupt" beer making as we know it. But a punch-top can -- which, by the way, Miller Lite is already marketing their own version of, except that it can can be opened using a house key or any other nearby pointed object -- isn't going to remake the way America drinks.