Reality Check: Not All Elite College Grads Want to Work in Finance or Consulting
David Brooks writes that ivy grads are singularly focused on elite careers. But does any data back this up?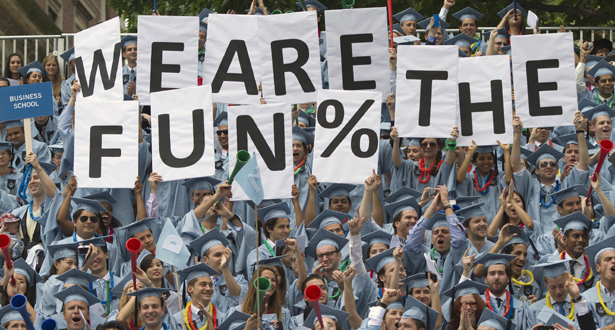 Reuters
The New York Times columnist David Brooks wrote that (young) people today are "less good at using the vocabulary of moral evaluation, which is less about what sort of career path you choose than what sort of person you are." I'm not sure if he has evidence for this assertion -- or precisely what he means by it -- so I thought I'd throw it out to thoughtful Atlantic readers and gather some feedback.
Brooks pointed out that graduates of elite universities -- Stanford, Harvard and the like -- tend to gravitate toward elite entry level opportunities in finance and consulting. Many, he writes, "have a blinkered view of their options," showing "little interest in or awareness of the ministry, the academy, government service or the zillion other sectors."  One wonders how many actual recent college grads Brooks has spoken with in recent months. Does he really believe that academia, for instance, is ripe with opportunities for young scholars? Is he unaware that Government has shed 2.6 percent of its jobs over the past three years, marking the greatest reduction in history? Does he truly believe that graduates of Harvard and Stanford do not understand that not all social workers are good people, or that not all investment bankers are bad people?
As a teacher of the "young people" to whom Brooks alludes, I can vouch that they seem to be every bit as good at making these so-called "moral evaluations" as were their parents.  What's changed is their realistic options -- and their debt load. When Brooks (and I) graduated from university, the world seemed -- and was -- ripe with opportunity to "do the right thing."  Today, not so much. What Brooks failed to mention in today's column is that last year 18 percent of Harvard's graduating class applied for a gig with Teach for America.    Which makes one wonder: who, precisely, is blinkered?