Paris: City of Lights (and Glass, and Steel)
An even-keeled metro enters the perfect economic storm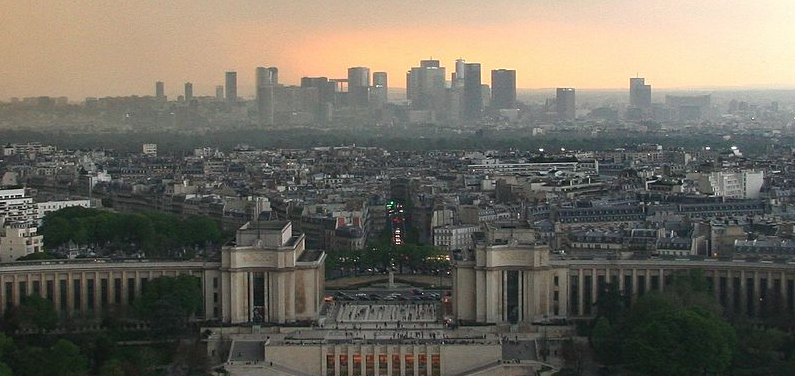 Wikimedia Commons
If Washington, D.C., is a developmentally stunted city, we can always blame the French. Designed by Pierre Charles L'Enfant to resemble Paris on the Potomac, the city later reaffirmed its vow to his vision of squat buildings by passing, in 1910, the Heights of Buildings Act to ensure that no building could rise above 160 feet.
Mapping the new global power structure
See full coverage
One century later, Washington, D.C., arguably looks more like L'Enfant's Paris than modern Paris does. La Défense, the business district seen above before an orange haze, is the European continent's largest business district, where a cluster of glass and steel giants hold more than 1,000 corporate head offices, 15 of the top 50 companies in the world, and more Fortune 500 companies than any city except Tokyo.

No mere historical relic, Paris is by many accounts one of the five most powerful cities in the world. According to the often-cited A.T. Kearney Global Cities Index, only New York and London are stronger across business activity, human capital, and culture. Although its metro population is less than half the size of mega-tropolises like Mumbai and Tokyo, Paris has the fourth most middle-class families (income > $20,000) within its limits.
For this it can thank a remarkably diverse array of businesses across energy, finance, and services. The city's largest corporations include a petroleum refiner, an insurance firm, a bank, a car company, and a drug store conglomerate. It is an important banking center, but perhaps not a world leader. The Global Financial Centre Index does not rank it in its top 20 as a finance hub, and compared to other French metros Paris derives a relatively higher share of its metro GDP from business services rather than from finance and real estate.

If this sounds like a well-balanced metro economy (even one grappling with a complicated relationship with government control over major portions of the economy), then Paris is a relatively even-keeled ship entering a tempest. There are three sequential gale winds looming. The first gale comes from the election of President Hollande, a socialist, who has promised to push back against austerity prescriptions for the periphery while pledging greater infrastructure investment for his own country. There is still considerable unease about how the economy will perform under the first socialist leader in nearly two decades.

The second gale comes from the EU crisis. Half of France's exports go to five major European countries -- Germany 16.4%, Italy 8.2%, Belgium 7.7%, Spain 7.6%, UK 6.8% -- all of whom are witnessing slowed growth or outright recession. (France is also the world's most visited country, and tourism could decline as families in neighboring countries cut back on leisure.) Indeed, the future of the euro zone is in jeopardy, and its collapse would have major implications for every economy in Europe, no matter how well-balanced.

Third and finally, there is the long gust of France's demographics. Today, France has a higher share of seniors than almost any advanced country in the world combined with a strange, and historic, allergy to immigrants. The future of the metro-based economy will be determined by who can attract the best talent, not by who can keep the most people out. In this respect, modern Paris could afford to distance itself even more from its history.