Our Bad: Historic Paper Ties Texas Droughts to Human-Caused Climate Change
On April 22, 2011, Texas Governor Rick Perry, who has resisted the science of man-made global warming, led the state in prayer: "I, Rick Perry, Governor of Texas, under the authority vested in me by the Constitution and Statutes of the State of Texas, do hereby proclaim the three-day period from Friday, April 22, 2011, to Sunday, April 24, 2011, as Days of Prayer for Rain in the State of Texas."
Prayer can't hurt, and it surely won't stop the rain. But Texas is getting close to the point where it will require a miracle of global politics and coordination to avoid summers like 2011 in the future.
For the most part, scientists are loathe to pin specific weather events -- hurricanes, droughts, floods -- to human-induced climate change. More than loathe, actually. "Statistical nonesense" was the way MIT atmospheric scientist Kerry Emanuel characterized such claims in 2005.

Dispatches about Planet Earth
See full coverage
But James Hansen disagrees. In a recent column for the New York Times, Hansen wrote that "we can say with high confidence that the recent heat waves in Texas and Russia, and the one in Europe in 2003, which killed tens of thousands, were not natural events -- they were caused by human-induced climate change."
The proof is in his
paper
, a peer-reviewed survey of climate variability that Hansen shared with
Time.
Hansen scans the world for "extreme climate outliers" -- temperatures more than three standard deviations (σ) warmer than climatology. Here 12 maps of the world going back to 1955. Red and brown areas are in the danger zone with "anomalies that exceed 2σ and 3σ."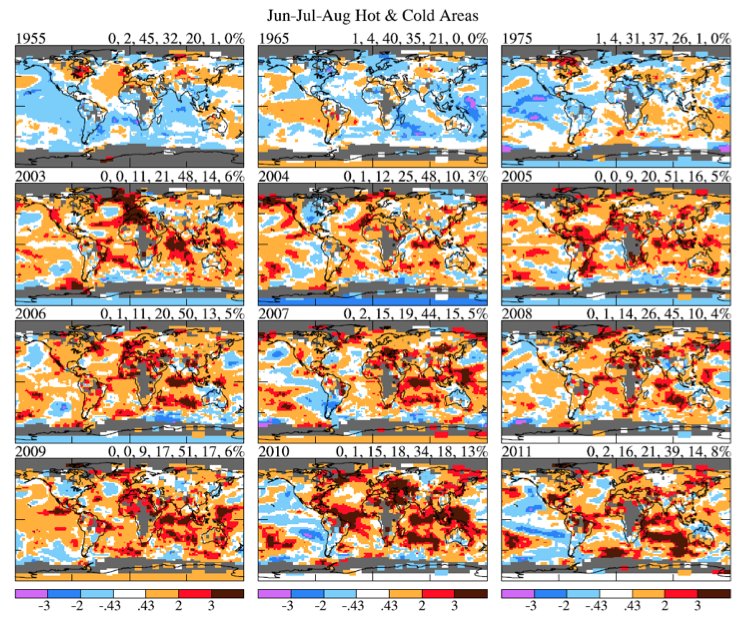 Zooming in on the United States with four charts dated 1934 (top left), 1936 (bottom left), 2006 (top right) and 2011, we see this: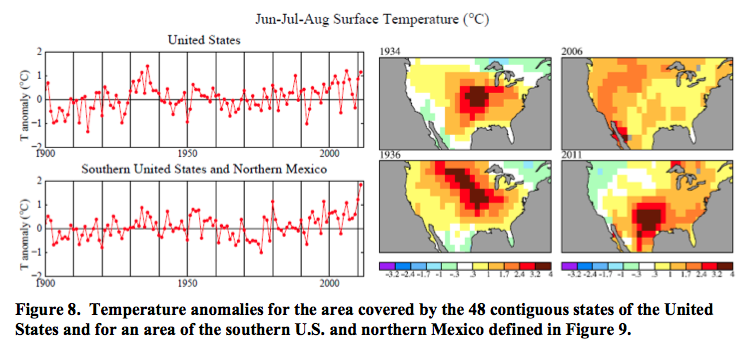 Hansen concludes: "There is no need to equivocate about the summer heat waves in Texas in 2011 [and Moscow in 2010], which exceeded 3σ - it is nearly certain that they would not have occurred in the absence of global warming."