It's a Record! U.S. Treasury Yields Hit a 220-Year Low
One of these days, the bond vigilantes will show up. Today was not that day though. Tomorrow's not looking good either.
The chart below from
Bloomberg
shows the nominal yield on 10-year Treasury bonds the past five years. Thursday's midday yield was the lowest it's been over that period. It was also the lowest it's been the past 50 years. Actually, 100 years. No, 220 years.
Yes, Thursday's brief sub-1.54 percent yield was the lowest ever.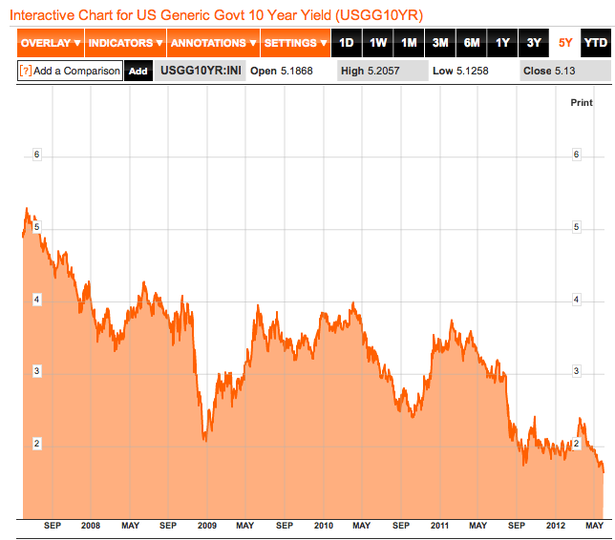 We can thank Europe's continued flirtation with financial Armageddon for the recent collapse in yields. Investors prefer the safety of Uncle Sam when it looks like the world as we know it might end -- or at least the euro as we know it.
Historically low borrowing costs don't mean that we don't have a long-term debt problem. We do. More accurately, we do have a long-term healthcare spending problem. But historically low borrowing costs do mean that we shouldn't worry about deficits in the short-term. Markets couldn't be less worried. They're practically yelling at us to borrow more.
There's never going to be a better time for the government to make investments and put people back to work. But try telling that to Congress. Better yet: don't waste your time. There's no way they'll listen, and
we really need you all to get back to work
.