Is Philanthropy Print Journalism's Last Hope?
The Ford Foundation recently pledged $1.04 million to Los Angeles' struggling daily. We might be looking at the future of newspapers.
The Ford Foundation recently pledged $1.04 million to Los Angeles' struggling daily. We might be looking at the future of newspapers.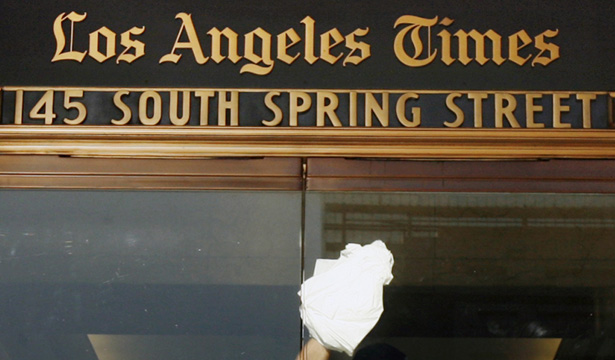 AP
It was startling to read last week that the Ford Foundation was awarding a two-year grant of $1.04 million to the Los Angeles Times for the hiring of reporters. The money will be used for coverage of immigration issues, including the Korean and Vietnamese communities, the California prison system, and the border region with Mexico, and to staff a bureau in Brazil. Ford has long been a supporter of journalism, with an emphasis on public broadcasting and nonprofit enterprises. But this grant represents a different approach: support for a newspaper currently in bankruptcy that has endured years of cutbacks in its resources and revenues. While still the most formidable news organization in California, the Los Angeles Times carries the stigma of its acquisition by Sam Zell, the real estate magnate whose purchase of the Tribune Co. in 2007 was a disaster that remains unresolved and in litigation. Foundation grants are not generally thought to provide support for institutions in trouble, but rather to give backing to innovation and enterprises solely operating in the public interest. While journalism in all ways aims to perform the traditional accountability function that is the ne plus ultra of news gathering, the Los Angeles Times is a business. And, despite all of its reverses in recent years, it is still measured in the marketplace by an ability to pay its way using revenues from circulation and advertising.
So what explains Ford's grant, an unprecedented gesture of largesse to a once-mighty profit maker fallen on hard times?
Alfred Ironside, director of communications for the foundation, said in an interview that devoting substantial means to strengthen coverage of social issues such as those envisioned in the Los Angeles Times grant is very much in keeping with Ford's mission and objectives. He said that Ford wants to focus on content -- which has been diminished in the decade of serious financial problems for newspapers -- as part of its annual $10 million program in journalism, while continuing to also support its public broadcasting grantees on radio and television. "Conversations" are under way with other news organizations -- the implication being newspapers that share the problems of the Los Angeles Times.
The notion of these formerly great generators of money resorting to philanthropy to support their work is poignant in some respects, perverse in others. Yet, given the realities of our times, it seems reasonable to accept a gift, as long as it is not encumbered with requirements for advocacy or any other restrictions that would pose a serious conflict of interest for a self-respecting news organization. In his announcement of the grant, the Times' editor, Davan Mahatraj, said there are "no strings attached. We have complete control over editorial content and are free to pursue whatever stories we deem appropriate." If that is the case, the Ford grant will enable the underwriting of coverage that will reach an audience of hundreds of thousands with information that might not otherwise be available.
Ironside said that the foundation believes there is a viable and even thriving future for what is known as "legacy media," and that the best of it -- at the Los Angeles Times and elsewhere --can deliver "incredible quality," both in print and online. Most attention in the digital age has been on how to increase access to the Internet and the multi-faceted tools that make it possible across all platforms. For example, the John S. and James L. Knight Foundation, another major philanthropic backer of journalism, favors the development of those tools in its grants rather than the content that is the explicit focus of Ford's program. So the Ford approach, which does not support digital-only reporting, seems in its way, somewhat old-fashioned. The foundation's initiation of these grants represents a possible attitude shift toward newspapers in a downward spiral. Warren Buffet's buying spree of print-based news companies and the recent sale of newspapers in Philadelphia and Chicago to local business leaders reflects a belief that they still drive the political and social agenda in many major cities. A recent restructuring of the Tribune Co. to make its eight major newspapers separate limited liability companies is a sign that they will be sold off individually as soon as the bankruptcy case is finally concluded. Eli Broad, the Los Angeles-based philanthropist and business billionaire, has said he would like "to partner with others . . . maybe foundations or wealthy families" to buy the Los Angeles Times.
The future of newspapers -- especially in their printed versions -- still seems altogether grim. The announcement that the much respected Newhouse-owned New Orleans Times-Picayune and three newspapers in Alabama will appear in print only three days a week was vivid evidence of the industry's continuing -- and deepening -- crisis.
The Ford grant, even at a million dollars, is a small contribution to editorial excellence, but if it turns out to be part of a larger trend toward supporting newspapers as they move increasingly towards digital delivery, then the prospects for traditional news could take a turn for the better.