How the Global Middle Class Can Save the American Middle Class
Here's the game plan: Hire over here, sell over there. More companies are creating jobs by taking advantage of rising global wealth -- and we should be cheering them on.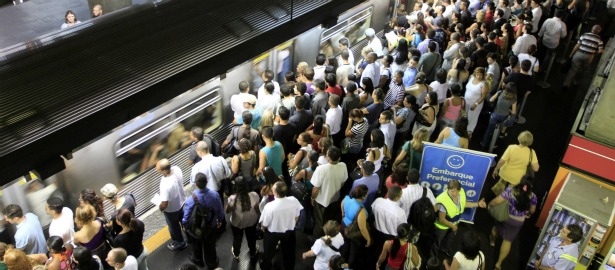 Reuters
Last week, 41 American companies received awards at a little-noticed White House ceremony. Despite the recession, the companies -- most of them small and medium-size businesses -- have experienced rapid growth and handsome profits in recent years. And they've beaten Chinese, Indian and European competitors at their own game.
How? By selling to a burgeoning global middle class expected to grow by 1 billion people -- primarily in Asia -- over the next decade.
Zippo Manufacturing Co, the maker of the iconic American cigarette lighter, has experienced 1,000 percent sales growth in China over the last 20 years and 900 percent growth in India over the last eight years. While other American companies have shed jobs, the 650-employee, Bradford, Pennsylvania-based company has added 150 jobs in the last three years and experienced a 20 percent increase in sales, most of it overseas.
"It's tough to compete, but we're doing it," said Greg Booth, the company's president and CEO, referring to cheap lighters manufactured in Asia. "We're competing in a category that is under incredible pressure."
WORKING HERE, SELLING THERE

DSC Dredge, a small, Louisiana-based builder of dredges, has increased its overseas sales by 1,300 percent over the last 10 years and nearly doubled in size from 80 to 140 employees. Their biggest overseas customers? Nigeria and Bangladesh, countries that Americans think of as impoverished but are experiencing significant economic growth. The firm's overseas sales have risen from $1.4 million a year in 2002 to over $20 million last year and make up 65 percent of its business. Charles Sinunu, the director of international sales, said the firm just sold three dredges to Russia and sells to 48 countries worldwide.
"It's become something where it really wasn't a big deal 10 years ago, and now it's a huge deal," he told me. "Right now, we have a record backlog of business and are actively trying to hire additional people."
And OSIsoft of San Leandro, California has done the seemingly impossible. While other companies have outsourced programming and technical work to India, the $300 million business software firm has grown from 150 to 750 employees in the last six years. Where are its new customers? In 110 countries around the world. Where are nearly all of its employees? Inside the U.S.
"We basically came to the conclusion that the cost of software development outside the U.S. is more expensive," said Nand Ramchandani, OSIsoft's director of business development and government affairs. "We just can't afford to have negative experiences. We'd rather develop that in-house."
A rough pattern emerged in interviews with senior executives of five of the 41 winning firms, which sell everything from vitamins to "waterless urinal technology" to oilseed presses. The rise of middle classes in China, India and other developing nations was not the death knell of the American middle class, they said. Instead, it represents an opportunity for American businesses that are willing to adapt.
"The real war that is being waged every day is an economic war," said Tom Kallman, a former Air Force F-15 fighter pilot whose New Jersey-based consulting firm, Kallman Worldwide, won an award for helping other U.S. companies export. "America's strength and future depends as much on a strong economy as it does on laser-guided bombs and jet fighters."
'A HORRIBLE THING'

American politics, though, is not changing fast enough, the business leaders warned. They expressed derision for the partisan politics of both parties in Washington.
"I can't state this strongly enough," said an executive at one of the award-winning companies who asked not to be named. "There aren't words in our language to express it. They are so far off base it's sad."
He and other executives said the problems come from the extreme right and left. Last week, a Tea Party-backed bill to close the U.S. Export-Import Bank, which lends money to U.S. firms that export, was defeated in the Senate. Several of the businesspeople said the bank wasn't perfect but it was an invaluable tool for countering Asian competitors, particularly Chinese companies that receive state support. DSC Dredge's Sinunu said the Chinese are "eating our lunch" in Africa, which now boasts seven of the world's 10 fastest-growing economies.
"I think that would be a horrible thing," Sinunu said. "The Ex-Im Bank is one of the very few things that I can shoot from my quiver to be successful. Getting rid of the Ex-Im Bank would be an absolute disaster for American companies that want to do business overseas."
Executives from the small firms generally praised an initiative by the Obama administration to consolidate the Commerce Department and six trade- and business-related agencies into a single, more effective body and the president's goal of doubling American exports by 2014. But they said American government export-promotion efforts still pale in comparison with those of China, Korea and many European countries.
The U.S government does not do enough to support American companies when they have designs stolen or counterfeited overseas, they said. The Commerce Department does not have enough staff based overseas to help American businesses, and post-2001 restrictions on granting U.S. visas to foreigners, particularly from predominantly Muslim countries, alienate overseas customers.
The executive who asked not to be named praised Korea's government for fiscal discipline, creating exceptional education systems and providing vast loan guarantees for Korean companies that are trying to export.
"I think it's relatively ingenious," he said, "to take their government money and utilize it to provide really good financing."
The awards -- and the places these companies have found customers -- show that the gravest threat to America's prosperity isn't the rise of middle classes overseas. It is Washington's blind adherence to dated ideologies that handicap our innovative small businesses. The world is changing, but Washington is not.
This article also appeared on Reuters.com, an Atlantic partner site.