Holy Cow! India Is the World's Top Beef Exporter
India, homeland of the sacred cow, is on pace to become the world's leading beef exporter in 2012.
This graph is based off data from the USDA's Foreign Agricultural Service. It forecasts that India, shown in blue, will be ship roughly 1.5 million metric tons of beef, passing reigning export champion Australia. It's a remarkable rise from just three years ago, when the famously bovine-friendly country exported less than half that amount.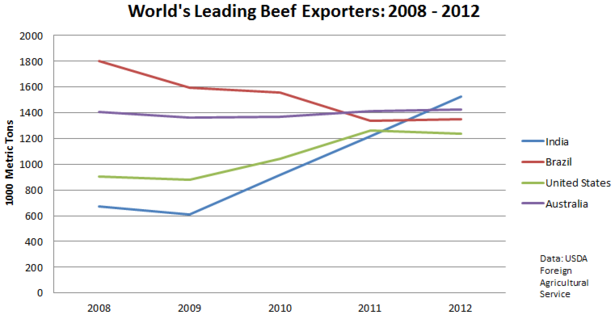 Here's how this has come to pass. Indian beef isn't really beef as we Americans know it. It's water buffalo, which the country's exporters sell at low cost to the meat-hungry but price-sensitive consumers in the Middle East, North Africa, and Southeast Asia. Indian federal law bans cow slaughter, as well as the killing of milk producing buffalo. But the males and unproductive females are still fair game for the abattoir. So we're not quite talking about American prime grade Angus here -- either from a gastronomic, or theological point of view. But the USDA still counts it all as beef, and economically, it competes in the same markets.