Go Midwest, Young Man: Indiana's Plan to Steal California Jobs
Governor Mitch Daniels has a bold strategy to make his state the new destination for outbound sunbelt businesses. But making Indiana a tech magnet will take more than low taxes.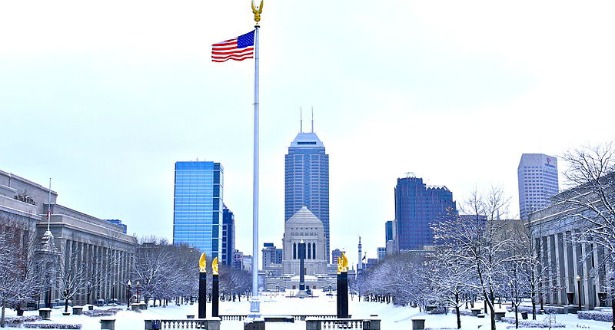 Wikipedia Commons
Some Californians may have recently noticed an advertisement with a coffee mug and the word "Indiana" written in the milky latte foam. A crumpled napkin sits next to the mug with this scribbled on it: "Admit it, you find me fiscally attractive." On another napkin it reads, "Indiana: low taxes, pro-business, fiscally responsible."
Ads like this are part of the Hoosier state's new push to lure California companies 2,300 miles east, trying to convince them to give up the morass of California regulations and high business taxes, in exchange for the regulation-light, low tax business nirvana of Indiana.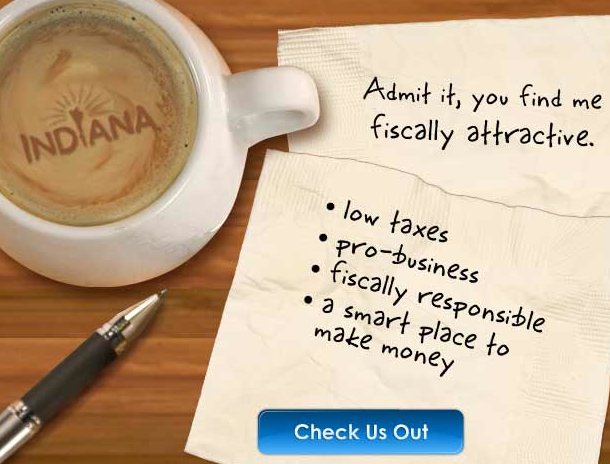 "I always say, Midwest quality at sunbelt cost structure," said Mitch Daniels, the Republican governor of Indiana. When we met in his office at the Indiana state capital, Daniels said the two states in his scopes are neighboring Illinois and California.
"It's a big world, and you have to look for your targets. So we look at American states, which are, as we see it, inordinately expensive, or even hostile to business."
Under Daniels' guidance, Indiana is cutting corporate income taxes from 8.5 percent to 6.5 percent, phased in gradually over the next four years. California's corporate tax rate in California is 8.84 percent.
Governor Daniels likes that comparison. "If I were being sarcastic, I'd say thank you. For reasons best known to them [California], they are so actively hostile to business. And it's reflected, business people tell us, not just in ever-higher taxes, but in punitive and hostile attitudes toward business."
OUT OF CALIFORNIA

"That's quite accurate," said Joseph Vranich, reflecting on the governor's quote after I read it to him. Vranich is a consultant in Irvine, Calif. who helps companies find places to relocate. "The top three reasons why companies leave California are taxes, the costs of regulatory compliance, and a hostile attitude."
According to Vranich's research, with his company Spectrum Location Solutions, at least 254 companies moved all or part of their businesses out of California in 2011. He says they're not being pulled to other locations, they're being pushed out.
"It always starts with a push. I've never had anyone call me and say, hey you know what, we're pretty happy here in California, but is there a place that's even a better Shangri-La for us?' I've never heard that once."
But after that push, are low taxes enough of a draw to South Bend or Bloomington?
HOOSIER STATE?

According to Indiana's Economic Development Department, eight California companies have relocated to Indiana in the past three years. Those companies employ 1517 people in Indiana.
"In a state like Indiana, which has nearly 3 million jobs, that doesn't really amount to very much," said Morton Marcus, a retired economics professor from Indiana University in Bloomington. He also questions how many Indiana companies are opening offices in California.

Marcus said lower taxes rank toward the bottom of the list for a company considering relocation. "The most important issue they have is how do they get their product to market and whether or not they have the workforce they need. And Indiana's main problem is that it doesn't have the kind of workforce that even our existing firms feel that they need."
Joseph Vanich said it's not uncommon for companies to actually chose locations with higher taxes. He said companies evaluate a set of factors when considering a move. "It includes quality of air services, to, if it's a family-owned company, the climate preferences of the wife. You'd be amazed how many times I hear that."
The life sciences company HYCOR Biomedical re-located its corporate headquarters, and seven jobs, from Garden Grove, Calif. to Indianapolis last year.
"I can't say I felt like I was pushed out of California," said HYCOR CEO Dick Aderman. "There are certain regulatory hurdles and things that make it probably a little difficult. For me, it was, the costs are very high to operate out there."
Aderman rattled off a list of cost savings he's getting in Indiana. He said the company can save 10 to 15 percent on real estate and 44 percent on its utilities bill. Capital costs are also cheaper. And then there's the lower tax bill, and Indiana's offer of $640,000 in performance-based tax credits to make the move.
"When you start taking about 10 or 15 percent (savings) on some of these numbers, you're talking about plowing that back into hiring somebody to do something that you need to do," said Aderman.

'INDIANA IS LAGGING THE NATION'

Of course, a lot of those savings have nothing to do with Indiana state policies, and economist Morton Marcus said the governor is taking undue credit. "The actions of state government have very little to do with creating jobs. They will take credit for almost anything they can."
Governor Daniels doesn't profess that lower taxes are the only reason companies choose Indiana. He's fond of saying that Indiana is building "the best sandbox" for companies.
This includes things like heavy investments in infrastructure, including a shiny new airport in Indianapolis that opened in 2008. In February, Indiana became the 23rd "right-to-work" state, a law which allows union workers to opt out of paying dues, or, in other words, weaken unions. (Indiana is the only Midwestern state with such a law.) Daniels cites the state's lower worker's compensation and unemployment insurance rates, and touts the state's quick turnaround approving environmental permits.

"'Time is money' is not a figure of speech, it's a literal truth in business," he said. "And I've told our people from the beginning, they're tired of hearing it, we will operate at the speed of business, not the speed of government. So we measure the amount of time it takes to get various permits."
By a different measure, Indiana generates more tons of hazardous waste than California, despite being less than a fifth the size in population, according a U.S. Environmental Protection Agency report based on 2009 data.
The state's Economic Development Corporation, for which Daniels' sits as chair, highlights a host of magazine rankings that place Indiana among the top-ranked states to do business. Daniels likes to highlight his state's stellar bond rating and balanced budget.
Morton Marcus doesn't buy the rosy economic picture the governor is painting: "Indiana is lagging the nation in many respects... If the governor is claiming that he has a superior record, you have to say: superior to what?"
Marcus argues that tax breaks are taking a toll in the form of lower revenues for state services and education. And, Marcus said, Indiana workers aren't prospering; the average Hoosier now earns $21.18 an hour, $2.21 below the national average. Also, best not for an Indiana worker to get injured at work - injured employees can receive a maximum of $600 a week, $410 less than an injured worker in California.

Marcus said, "There's no question that if you don't spend money on the important things, you're going to end up with a state that has an inferior quality of life. And many people feel that the state of Indiana is not a place they want to be."
>