Europe Is Literally Running Out of Money
Europe has a lot of problems. But none is more pressing than this: The euro zone is running out of money.
The chart below from
Scotty Barber
shows broad money and private sector loan growth in the euro zone over the past decade. The numbers for the past year are not good. Not good at all.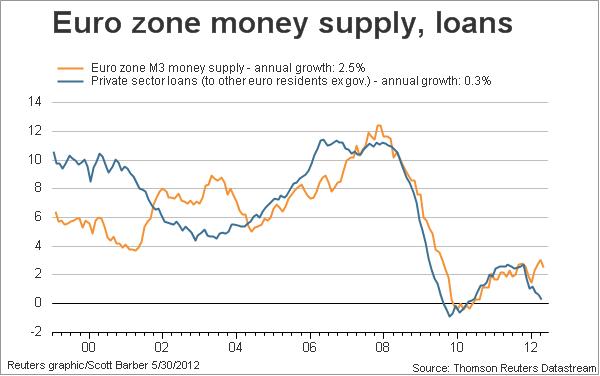 Economies need money. Without it, businesses and households stop.
Just ask Spain
. It's further along in the "no money" race than most. Unemployment is 25 percent, credit is drying up, and the government is supposed to cut its deficit an almost unthinkable amount.
It's a vicious circle. When there's not enough money, the economy collapses. And when the economy collapses, nobody wants to take out loans. Which reduces the amount of money even further. That's why falling European private loan growth is so concerning. Instead of borrowing more, people prefer to stuff whatever money they have under the mattress. Except nowadays we have a new name for mattresses. We call them "government bonds". That's why the yields on U.S., U.K. German and a host of sovereign bonds are at
all-time lows
. Heck, German two-year bonds aren't paying anything.
Zero
. And that's downright generous compared to Danish two-year bonds that have a
negative yield
. That's right, investors are paying the Danish government to hold their money.
The European Central Bank needs to wake up. Investors are legitimately worried about a euro-pocalypse dragging down the world economy. It's time to print some money.