Europe Agrees: Greece Is the Laziest, Most Incompetent Nation in the EU
Greece is the hardest-working country in the EU! According to Greece. And only Greece.

According to Britain, Germany, Spain, Poland, and the Czech Republic, it's the laziest country in Europe.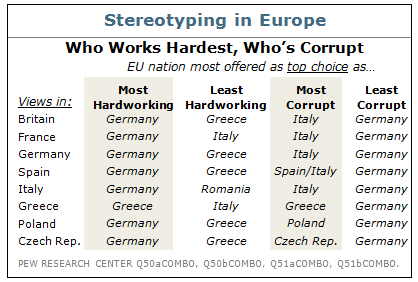 Meanwhile, Germany is the most respected EU country, according to the Pew Global report, European Unity on the Rocks. And Greece appears to be living in a bizarro universe where 78% of its respondents held negative views of Germany. Three in five Greeks said their country had Europe's hardest working citizens. Half of the rest of the respondents from the other seven nations said Greece had the laziest workforce in Europe.
This chart is somewhat hilarious, and also somewhat tragic, but it needn't be damning. Stereotypes exist is fully functioning monetary unions, too! Take, for example, the monetary union I live in. As everybody in New York knows, New Jersey has more tan lines than working neurons. As everybody in New Jersey knows, New Yorkers are smarmy soulless jerks. And, as everybody in New York and New Jersey can agree, Mississippi is full of illiterate bumpkins, who are probably all racist.
Europe's problem isn't stereotypes. It's institutions. Or, more accurately, it's the continent's dearth of working, supranational institutions that can transcend international stereotypes and politics. In the U.S., we don't debate "permanent bailouts" to poor people in Mississippi and New York, no matter how racist or smarmy they are. We just keep sending them money because modern Medicaid is an established institution that is bigger than the month-to-month political squabbles and stereotypes that can bog down decision-making at the federal level (note to future readers: This sentence's veracity might have changed somewhat under a Romney/Ryan administration). Europe's stereotypes aren't good. But they wouldn't put the European Union at risk unless the institutional bedrock of that Union was flawed to begin with. And it is. Oh, how it is.