Eduardo Saverin Isn't the Only Rich Guy Defriending the U.S.
Facebook co-founder Eduardo Saverin has renounced U.S. citizenship a week before the company's IPO is set to increase his net worth by about $4 billion.
Saverin's just getting in on the hot new trend: leaving the country for (probably) tax-related reasons. Renunciations have increased eight-fold since the early 2000s, according to the IRS. Last year hit a record 1,780.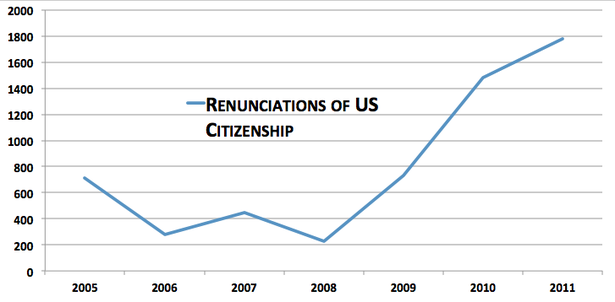 As Reuters reported, the United States is one of the only countries to tax its citizens on income earned while they're living abroad. While the super-rich do face an "exit tax," this move will ensure that most of Saverin's capital gains are taxed at Singapore's zero-percent tax rate. Saverin has been a Singapore resident and investor for many years.
States are famous for "stealing" businesses from each other with low tax rates and subsidies. Advanced countries have competed down corporate income taxes to attract subsidiaries. Capital gains and income taxes will probably have a same effect on a small share of highly rich and highly independent investors. Two thousand people isn't exactly an exodus worth changing public policy. But we shouldn't be shocked that lower-tax countries have some natural advantages for international investors and business over the United States, where the rich are indeed required to support big social programs.

Don't freak out when Facebook's rejected co-founder skips the country. Freak out when Facebook thinks about following him.