Broken-Record Watch: Is Housing About to Rebound?
This time might be different. Really. Possibly. Maybe.
Housing has been this recovery's equivalent of Lucy yanking the football. Every time people are ready to call the "bottom," it's not yet the bottom. It's hard not to be cynical about it. The latest headlines seem like more of the same: Prices hit a
new low
in the first three months of the year, and pending home sales fell
5.5 percent in April
.
So, where's the good news?
It's about building permits. The chart below shows the year-over-year change in home prices (blue) versus the year-over-year change in building permits (red).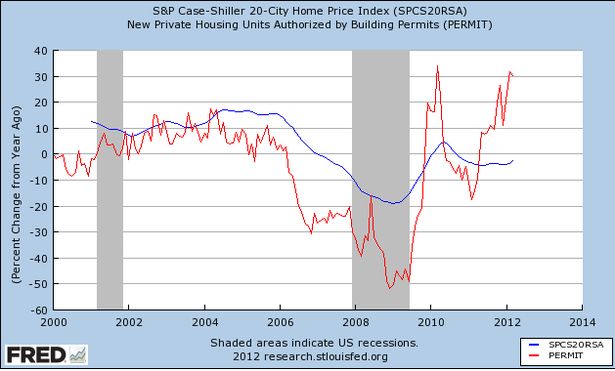 That builders are ramping up activity -- from an admittedly very low base -- is a sign that we should expect some upward pressure on prices soon.
But first, two caveats. First, the year-over-year change only looks so dramatic because last year was so pathetic. Consider the chart below that indexes building permits from 2000 on.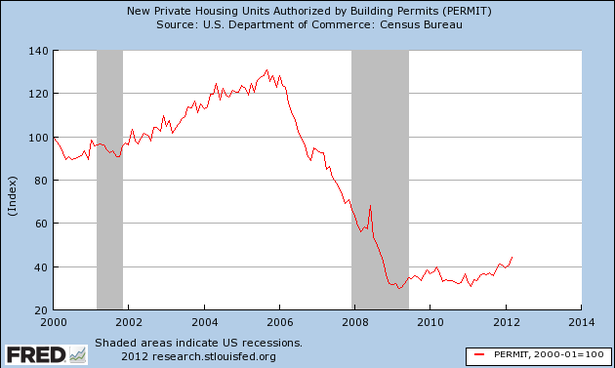 That puts the rebound in perspective. We're still only building about 40 percent as many housing units as we were a dozen years ago. Whatever upward pressure exists is quite modest.
Second, let's put on our realtor hats for a minute and remember that every market is different. The markets that boomed the most and then went bust the most are likely the ones that need the most new units. We might already be seeing this in places like
Las Vegas
. Whatever recovery we do see -- and we will see one, eventually -- will likely be regional rather than national.
With Europe
doing its best
to push mortgage rates down, it might finally be a good time to buy a house.