America's Lucky Break With Natural Gas
America's natural gas boom is, in part, a story about technology triumphing over geology, of companies that merged advanced drilling techniques to tap resources that not long ago seemed like economic dead ends.
But as Bloomberg Businessweek writes this week, the U.S. also been lucky. Very lucky. Energy companies are quickly discovering that out our deposits are are a whole lot cheaper to drill than those elsewhere in the world, as shown in the graphic below.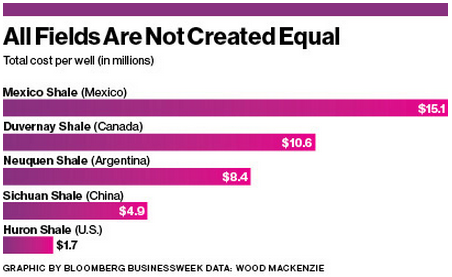 Thank the "accommodating geology" of our shale deposits, the magazine writes. A driller in Pennsylvania can turn a profit with gas selling at $3 per million BTU. In Poland, the magic number is $9. Drilling a well in China will cost triple the price it would in the United States. 
The higher costs are slowing down development of global gas resources, which means prices are likely to stay higher abroad than here in the United States for the foreseeable future. That likely means there will be more pressure on the government to approve gas export projects. After all, the U.S. is currently in the middle of a glut that has driven down prices to historic lows, and has forced many producers to slow down their drilling. The world wants what we're lucky enough to have. And there are a lot of companies that would like to give it to them.