30% of U.S. Economic Growth Has Been From Car Sales! (Bad News)
Vehicle purchases alone are responsible for a whopping 30 percent of U.S. economic growth in the past two quarters, according to new Credit Suisse research (H/T to The Financial Times).
How is that possible? As the report notes, vehicle output only accounts for 3 percent of gross domestic product. But because it fluctuates so much with the economy, it also has an outsized impact on growth. And recently, the new car market has been on a tear. Sales are on pace to reach 14.5 million for the year, up 13% from last year. This chart from the bank's report should put that in perspective.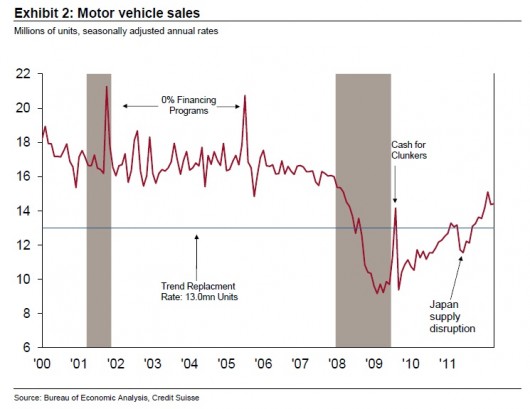 During the last decade, Americans bought an average of 16.6 million new light vehicles a year. We're obviously still well below that figure. In fact, you'd have to reach back to the early 1990s to find a time when sales were at this level. Some might interpret that as good news and a sign that we still have plenty of room for growth before we match our old normal.
I'm skeptical. First, a lot has clearly changed since the housing boom and dot-com bubble. Americans no longer feel flush thanks to the illusion of magically rising home prices and stock portfolios. Much of the recent buying spree, meanwhile, has been fueled by sheer necessity, as car owners who decided to hold off on trading in their aging vehicles during the recession are now heading back to dealer lots. We're finally back above the replacement rate -- the magic number of sales it takes scrap old, dying vehicles while maintaining the same number of cars and trucks on the road -- of roughly 13 million a year.
Moreover, the auto industry itself has changed. In the aughts, American auto makers were operating far too many factories and building far too many cars, which they sold by any means possible just to keep the whole, bloated system running. Detroit relied heavily on steep discounts, including those 0 percent financing deals you see marked on the graph above. Thanks to the bankruptcies at GM and Chrysler, the industry has been able to scale back its operations, shuttering factories and getting rid of excess capacity. Meanwhile, they've done away with the discounts. As the Wall Street Journal has noted, they've gotten more profitable by selling fewer cars.
Americans don't feel as rich as they used to. The industry doesn't need to sell as many cars as it used to. In short, there isn't much reason to think we'll see the auto market return any time soon to the heights of a few years ago. If the country's growth depends on car buying, that's trouble. (For a more optimistic view, here's a post from Morningstar analyst David Whiston on Seeking Alpha).