Update: See below.
Great Britain's economy contracted slightly for the second consecutive quarter. Yep, that's a recession.
Note, this isn't a huge plunge. It's a little toe-dip. But the implications are bigger. Before Prime Minister David Cameron came into power, his country was recovering at roughly the same pace as the U.S. Since Cameron announced an austerity plan to win the graces of the international lending community, the economy has hit a wall, stumbled forward, and finally fallen flat on its face.
Take a look at this great graph from Scotty Barber at Reuters: Great Britain is now doing even worse than the euro zone it so routinely disparages.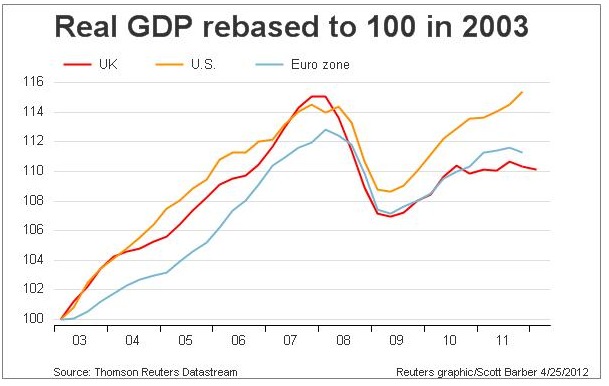 What's the lesson here? That fiscal austerity doesn't work without an export recovery to make up the money? Sure. That the Bank of England has failed to stimulate growth expectations in a sagging economy? Sure.

But here's the fascinating thing about the UK double-dip. According to UK Office for National Statistics, the sector whose value-added has grown the most in Great Britain since 2008 is ... the government. Huh?

The government supersector -- which includes public administration, defense, education, health, social work, and (for some reason) the "entertainment and recreation" industry -- has expanded 4.5% since 2008. By contrast, overall production -- which includes mining, agriculture, and manufacturing -- has declined 9%. Construction, which plummeted in 2009, is still down about 6% from 2008. Meanwhile, despite taking an enormous hit in its mighty financial sector, UK business/finance is nearly back to its 2008 level. Take a look:

How is all this possible? How could austerity be crushing the UK economy while, at the same time, government's value added is growing faster than the rest of the economy?