When States Slash Education, Women's Jobs Disappear
Mitt Romney's charge that women accounted for 92 percent of job losses under Obama was a true statistic used falsely. Recent female employment declines have been disproportionately concentrated among government workers. Since January 2009, about two-thirds of all women's job losses have been in the public sector, according to the Bureau of Labor Statistics. Today, I wanted to briefly zero in on one of the biggest reasons for those declines: America's vanishing public school spending.
According to the BLS, local governments alone have cut 482,000 jobs since the beginning of 2009. About 226,000 of those jobs, or 46 percent, have been in education. This should come little shock, since at least 30 states now spend less on public schools per student* than they did four years ago, as shown in this Hechinger Report chart. Some of the severest cuts have been in large states like California and Florida,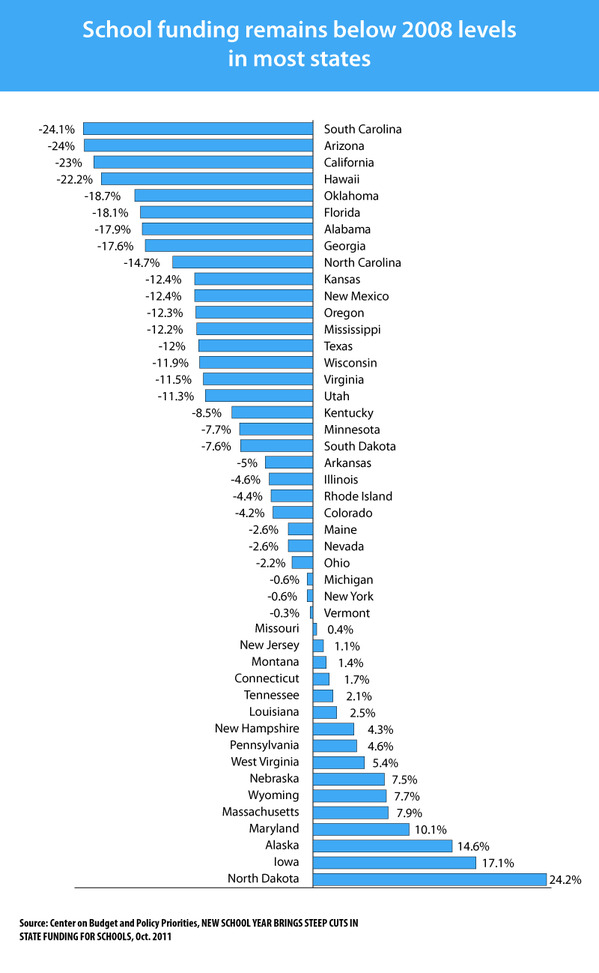 In many ways, this is the logical outcome of government austerity on the local level. It's pretty close to impossible to cut a state's spending without putting education on the chopping block. Like Medicare and defense in the federal budget, it's simply where the money is. According to the Census Bureau, Local governments spent
$1.64 trillion total
in 2009; $608 billion, or 37 percent of that, was school spending. Unfortunately, the cuts fall disproportionately on women. According to the National Center for Education Statistics,
76 percent
of public school teachers were female in 2007 - 2008.
When we talk about education, we're talking about a pillar of female employment. When you slash it, women's jobs disappear.
_________________________________
*Since the country's student population has stayed relatively steady over the past few years, this amounts to an absolute cut in many states, such as California.