When Are the Best NFL Players Picked?
The NFL draft, which kicked off last night, is a perfect petri dish for behavioral economists.

Every year, 32 teams line up to place bets of uncertain value (or prices) on uncertain talent (or payoffs). Some first picks turn out to be busts. Some 199th picks turn out to be Tom Brady.

This range exists because predicting somebody's future performance and productivity is very difficult. If you've ever hired somebody or dated somebody, you know that already. (If you dated them after you hired them, then you're really an expert.)

There is a deep literature on NFL draft economics --
read Richard Thaler on how teams tend to overvalue top picks
-- but I wanted to focus briefly on this wonderful graph from
Cade Massey
, a professor at the Yale School of Management. It plots where the top six most awarded (with Pro Bowls) and rewarded (with cash money) players from each draft were selected: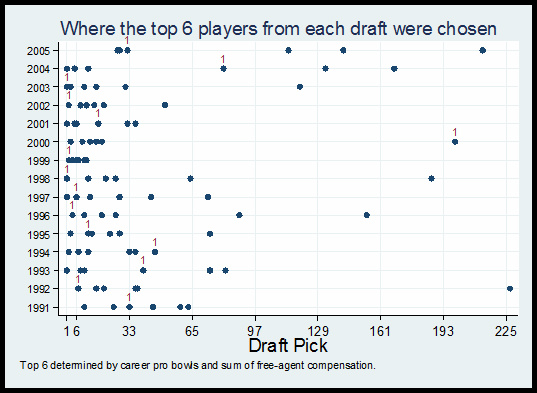 Upshot? "Draft order explains only 31% of variation in players' career starts, 22% of free-agent [money], and 9% of pro bowls," Massey writes. It's "largely a lottery."
Even if you dispute Massey's metrics -- e.g.: offensive lineman can make or break a team but they're not paid like quarterbacks, and fewer lineman go to the Pro Bowl every year than wide receivers -- it's reasonable to say that the top six picks don't turn out to be the top six players. But it's also apparent that in most years, the top talent is at least half gone by the end of the first round, because, together, the teams do a pretty good job identifying the best future players.

In every year except 2005, at least three of the top six players were drafted in the first round. In most years, at least four of the top six landed in the first round. In 1999, all top six went before the 20th pick. NFL teams, independently, can be stupid. But NFL teams, collectively, are pretty savvy talent forecasters. So, order matters.