What's Your Favorite Tax Graph?
Welcome to tax week. Later today, I'm posting a gallery of my favorite charts, graphs, and tables about taxes.
As I'm reminded every other day or so, many of this site's readers are just as fanatical about tax policy as I am. So I'm inviting you to share your favorite charts in the comment section. Paste a hyperlink and a few lines of your own analysis, and I'll post your contribution throughout today and tomorrow.
Here, let me get things rolling with one of my favorite charts of the last few months, this from a recent CBO report on the deficit. Our tax code doesn't just collect money. It also spends money.
These so-called tax expenditures -- that is, exceptions and deductions in the tax code for health care and housing and so on -- don't count as spending in our budget. But they are spending, in a way. They are measurable transfers of money in exchange for certain behavior. Did you buy a house? Here's some money. Did you have a kid? Here's some money. If you add it all up, tax spending in 2012 costs more than Medicare, more than the Defense budget, and more than Social Security.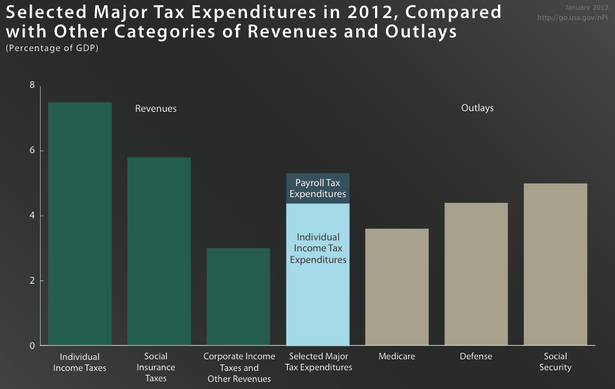 Stay tuned for more on who pays taxes, who doesn't pay taxes, and who's received the biggest tax cut in the last 30 years.
In the meantime, share your favorites.