The Meh Economy: Today's GDP Report in 2 Minutes
Welcome to the mehcovery.
Three weeks after an exceedingly meh jobs report (+120,000 jobs), we've got an equally meh GDP report. The economy grew just 2.2% in the first three months of 2012.
These numbers will be revised, possibly dramatically, in the next few months. This first first read shows strongish consumer spending (it was the best quarter for auto sales in four years) offset by slowing business investment and falling military spending.
Here's a great breakdown from Scott Barber at Reuters.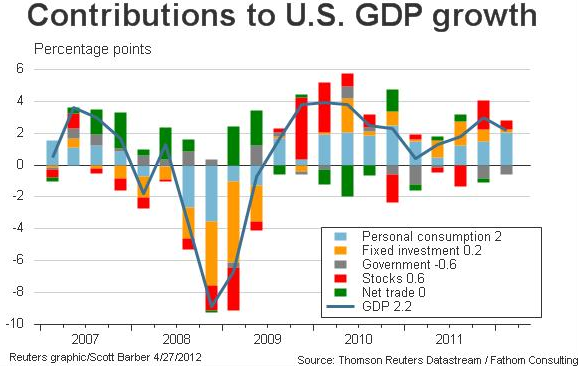 It's considered tedious to talk too much about the weather, but the unseasonably warm winter probably played a big role in today's mehness. Home construction rose at its fastest pace since the second quarter of 2010, probably thanks to the warm weather. But spending on utilities fell, as families spent less to heat their homes, also probably thanks to the warm weather. Both trends could mitigate in the second quarter. Or maybe not? The future is complicated!

Overall, 2.2% is neither great, nor bad, nor, perhaps, meaningful. It could be revised up to 3% or down below 2% in the next few months. No matter what, it could always worse.
We could be Europe: