The Euro Is Still Doomed: Why Most of the News Out of Europe Doesn't Matter
The news from Europe lurches forward and backward, but the fundamentals are fundamentally the same. The euro is basically doomed. Here's a simple way to think about why.

For all the talk about bond yields and deficits, Europe really faces a trio of existential crises. First, southern Europe has a competitiveness problem. Second, it also has an unemployment problem. Third, Europe itself has an institution problem.

During the bubble days, credit poured into Europe's periphery. In Spain and Ireland, credit poured into real estate, creating a housing bubble. In Greece, credit fed a government bubble. In Italy and Portugal, it credit encouraged households to borrow more, creating a private debt bubble. In all of these countries, wages soared as credit created more demand. Meanwhile, German paychecks stayed mostly flat. Hello, uncompetitiveness.
The below chart courtesy of the European Trade Union Confederation shows how much German wages (blue) have grown compared to Greek (light blue), Italian (purple), Spanish (green), Irish (orange) and Austrian (red) wages, since the introduction of the euro.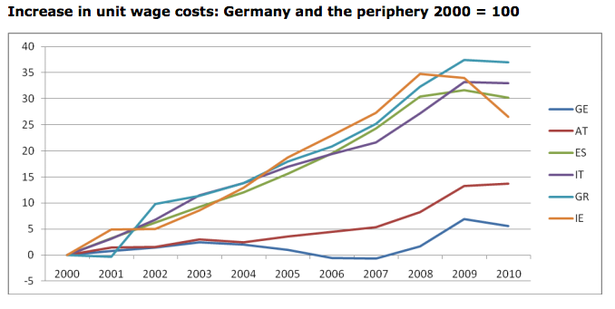 The road back to competitiveness begins with southern European wages falling relative to German wages. Germans are terrified of inflation, so that leaves one option: southern European wages fall dramatically while German wages stay steady.

There are two ways for wages to fall: (1) Everybody takes a partial pay cut, or (2) Some people take a 100% pay-cut by losing their jobs. Number (1) isn't an option, because wages are sticky and people naturally resist taking pay cuts. As a result, Germany's plan to make southern Europe more competitive is really a plan to make southern Europe have more unemployment.
It's tragicomic. Southern Europe already has an unemployment crisis. Their depression-levels of joblessness are a dagger aimed at the heart of the European project. Absent growth, there's the danger that southern European politicians will conclude that they can't get their people to go along with Germany's agenda of austerity über alles. But this is also political poison for northern Europe. It's almost impossible to run a balanced budget with unemployment at catastrophic levels -- which leaves southern Europe with gaping deficits and no growth. It's up to countries like Germany, Austria, and the Netherlands to continuously bail out their southern European neighbors. That's not exactly a popular political platform for Merkel, either.
This makes for some ugly politics. Unfortunately, the euro crisis ultimately demands a political solution. Europe currently lacks the institutions it needs to make the single currency work. There's no central treasury, or pan-European banking regulator. It's not worth saving the euro if they don't eventually create this infrastructure. And that doesn't seem likely, with Germany's austerity medicine pushing the two euro blocks further and further apart.
I hope I'm wrong.
>