The 10% Fall: Home Ownership Hits Its Lowest Level in a Decade
The percentage of Americans who own their home has hit its lowest point in more than a decade, according to a new survey from Gallup. The pollster reports that the homeownership rate fell from 68 percent in 2011 to 62 percent in 2012.
Is this something we should all be concerned about? Not particularly.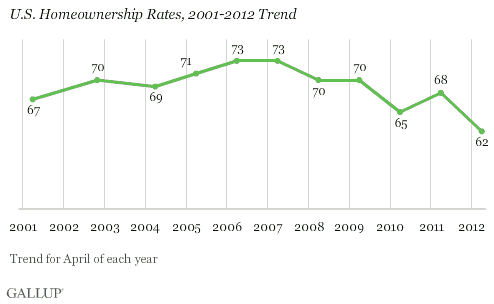 First off, we should probably take Gallup's specific results with a grain of salt. Did the home-ownership rate really rise three percentage points between 2010 and 2011, just to drop by six one year later? Count me as dubious. The poll also has a margin of error of plus or minus 4 percent which, given that we're talking about a 5 point shift over the decade, is quite large.
Given the weak economy and persisting foreclosure crisis, though, it's probably safe to assume Gallup is basically right about the trend. That doesn't mean we should all bemoan the death of the homeownership ideal. First, consider where we're beginning our comparison. In 2001, we were coming off the tail end of the tech bubble, in many respects a high-water mark for America's economy. What followed were several years of low interest rates and disastrously loose lending standards that fueled an unsustainable housing bubble. We're looking at a period in time where potential home buyers went from being flush to feeling like they were flush to realizing they, in fact, were not flush. It's not a great frame of reference.
There's also an upside to a renter economy: Workers become more mobile. When jobs are scarce, people often need to move to find employment. Owning a home makes that harder. So a drop in the ownership rate may be good for the labor market.