Instagram Is Now Worth $77 Million Per Employee
This morning, Facebook bought Instagram, the photo-sharing phone app, for a fat $1 billion. Instagram has more than 30 million signed-up users, but it doesn't make any money. It employs only 13 people, at last count. To plug it into one of our favorite formulas, if you divided its new valuation by employees, you would get $77 million per worker.
Once again: Instagram is officially worth $77,000,000 per employee -- three-times more than Facebook's estimated valuation/worker and 15-times more than Apple or Google, as our tech writer Rebecca Rosen reported. The new Web economy, which draws its value not from employees making hardware but from users employing software, operates with a totally different valuation calculus than AT&T or Microsoft. There's an old saying, "if you're not buying the product, you're the product." Instagram and Facebook are free. They're valuable because they're selling (or have the potential to sell) so much of you.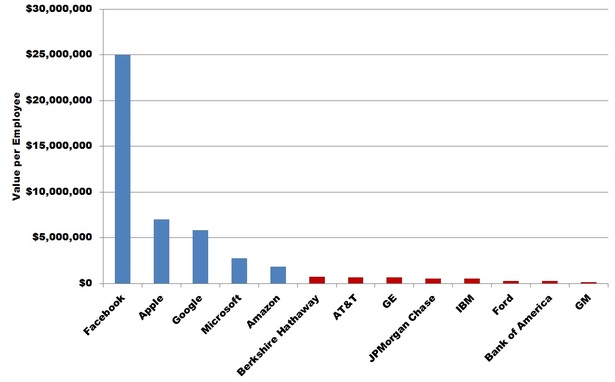 A note about that $1 billion figure: Just because Instagram doesn't make even $1 doesn't mean Facebook is crazy for paying $1 billion. The relevant question isn't "How could a revenue-dry network of moodily filtered photos be worth $1 billion?" but rather "What is owning Instagram worth to Facebook?"
We're not going to find out Mark Zuckerberg's true intentions for Instagram for a while. He might have paid for integration rights. He might have paid for elimination rights. For the moment, what we know is: (1) Instagram is a wildly popular and rapidly growing photo-sharing network, and (2) Facebook users spend more time looking at pictures than reading their Newsfeed. If Facebook performs the role of photo-sharing network for its hundreds of millions of users, then any popular photo-sharing network could potentially be a competitor, even though plenty of Instagram photos already wind up on Facebook. A week ago, Instagram was worth $500 million to its investors. This week, it's worth $1 billion to Zuckerberg. It'll be interesting to find out why.