How Soon Could Unemployment Drop Below 5%?
The Bureau of Labor Statistics doesn't expect the U.S. to reach full employment until 2020, but yesterday, the Federal Reserve Bank of New York offered a more optimistic scenario where the unemployment rate drops to 5 percent by 2017. Time to break out the Prosecco? Well, not quite. There's good news and bad here.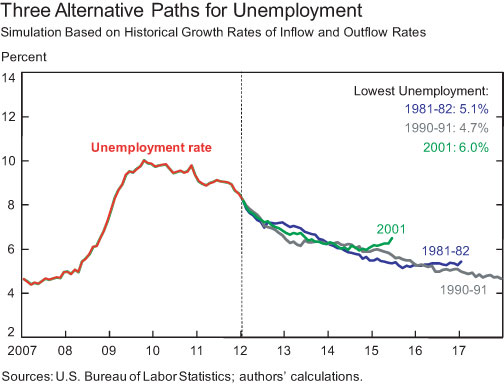 First, a bit about how the Fed reached its conclusions. Most forecasters link job growth directly with gross domestic product, a relationship known as Okun's Law. The Fed's researchers chose not to. Instead, they measured the speed at which workers have been flowing in and out of the labor market, as well as the rate at which they're finding jobs. Then they modeled how those "inflows" and "outflows" could change, based on past recoveries. Finally, they plotted out what will happen if the current recovery lasts as long as any one of the economic expansions that followed the last three major recessions (They combine the back-to-back downturns of the early 1980s into one).
The good news: We could get awfully close to full employment within five or six years. The bad? We have to be really lucky. All of these scenarios assume that the economy doesn't backslide at all in the next three years. If it hits an iceberg by 2015, in their forecast, we get stuck at 6 percent unemployment, and then start shedding jobs from there.
So there's a conceivable way we get back below 5 percent unemployment before the start of the next decade. It will just take some patience, and some good fortune.
>