China's Next Big Challenge: The World Biggest Growth Miracle Enters Phase II
The era of cheap Chinese goods is coming to a close. The era of middle class China is nearing.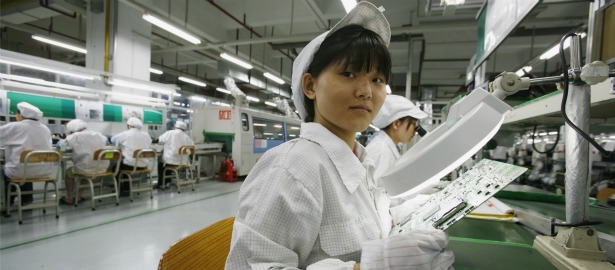 It's hard to comprehend just how much China has grown the past three decades. Just compare Shanghai's skyline in 1990 versus 2010. That's roughly 60 years of development crammed into just 20 years. Three broad factors have fueled this hyper-growth: a surfeit of cheap labor, market reforms, and globalization. China has made the world a world that's made in China. But that's changing. China is nearing that paradoxical moment in economic development where a country's people get richer and the economy grows slower, at the same time.

Mapping the new global power structure
See full coverage
There are already a few signs this is beginning to happen.
China is nearing its
peak urbanization rate
. That means people will still be moving from China's vast countryside to its cities, but at a slower rate. Fewer people migrating to China's industrial powerhouses means that companies will have to compete more for labor. Workers will have more leverage. Wages will rise.
That's good news, and it's already happening. Indeed, China's move into
higher-priced, higher-margin
goods
is a sign of this transformation. After all, if Chinese workers demand higher wages, then its factories, with their razor-thin margins, have to sell higher-priced goods to stay profitable.
Housing is another area where this metamorphosis is continuing apace. Currently, workers need what is known as
hukou
-- a permanent residence certificate -- to legally work in a city. In Shenzhen, the home of Foxconn, only graduates from certain elite universities were allowed these certificates last year. This year, all graduates are
eligible
. With labor beginning to become scarce, particularly skilled labor, China's cities and firms will have to compete for it like they haven't before.
China faces huge challenges in its leap from being a low-income (but fast-growing) economy to a middle-income one. As wages rise, price levels will rise and China will lose some of its advantages selling cheap goods. That might be a dangerous prospect for Beijing, but it's good news for Chinese workers and good news for the rest of the world too. If China's middle class can buy more stuff with a stronger currency, it will create a massive new market of middle-income buyers on the global stage. Commentators have been talking about this for years, but this could be a meaningful inflection point. China's recent
investment boom
is creating the conditions for this shift -- and smoothing over the transition.
This is a real great leap forward.