Apple's Monster Quarter in 4 Charts
Apple's second-quarter earnings are out, and they're pretty spectacular. The biggest public corporation in the world nearly doubled its quarterly profit from 2011 to $11.6 billion.

One stat puts this monstrous performance into a little perspective: Facebook's quarterly revenue hit $1.06 billion. Apple's was $39 billion. Normalizing for revenue-per-day, Apple could have not sold a single product -- phone, iTunes song, iPod charger, iPad case, and so on -- after January 4, and it would have made more money than Facebook this quarter. Jesus.
Earnings reports always make me dizzy, so I distilled the summary into four graphs that break down revenue and revenue growth by product, and by country. Here we go
APPLE REVENUE BY PRODUCT
(Remember: In 2006, the iPhone didn't exist. Six years later, it's 58% of the company.)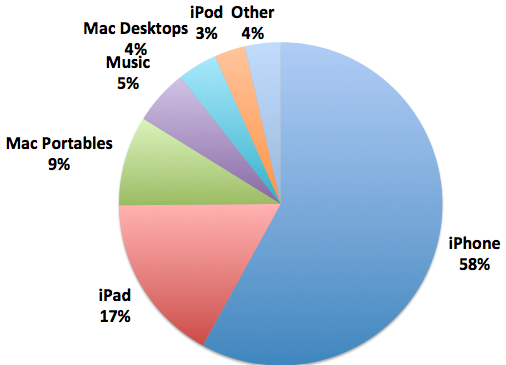 (Apple's revenue is truly global. More than half of its revenue came from outside the Americas plus the transnational retail sector.)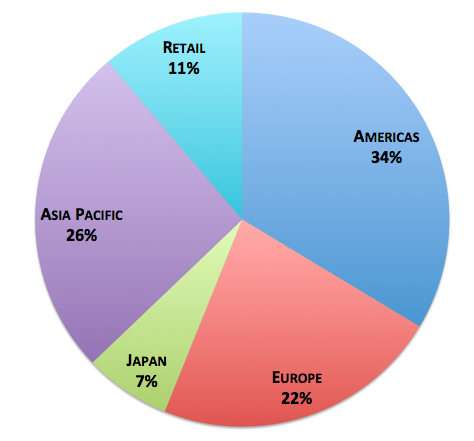 APPLE REVENUE Y/Y GROWTH BY REGION

(Revenue growth in Asia is more than double revenue growth in the Americas, and it's nearly the same share of total revenue -- see above graph)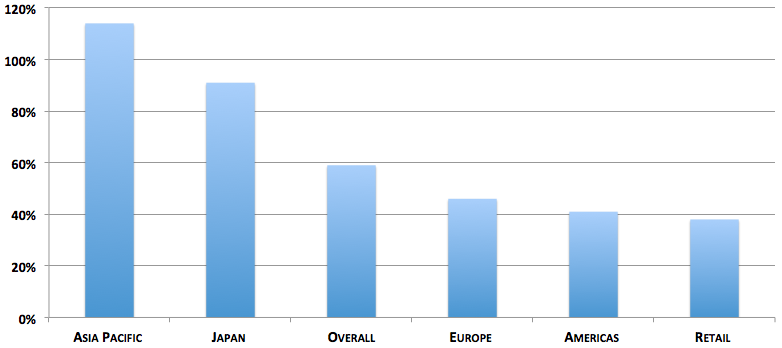 APPLE REVENUE Y/Y GROWTH BY PRODUCT

(iPad sales might have disappointed, by they're up more than 120% since last year. Meanwhile, iPod sales have been rightly cannibalized by iPhone and other smartphones)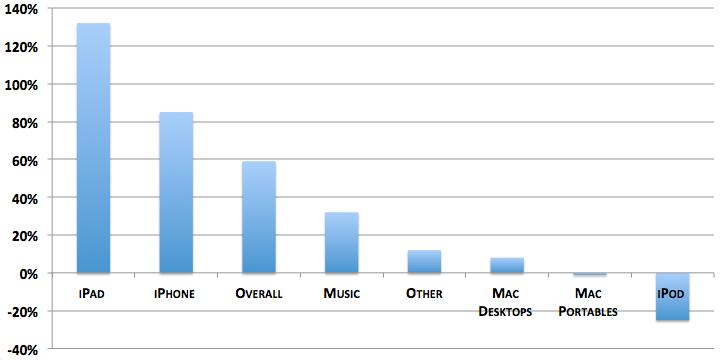 >