Will This Gas Price Map Decide Obama's Election Map?
When journalists (myself included) talk about the impact rising gas prices might have on President Obama's reelection chances, we tend to speak in terms of broad national trends. What will it do to the U.S. economy? Who will America's drivers blame?
But let's remember: All gas prices are local. A commuter in Denver is paying a lot less these days than those poor souls filling up in Los Angeles. With that in mind, the Rhodium Group's Trevor Houser has produced a great chart illustrating the cost of fuel across red states, blue states, and swing states.
First, the good news for Obama: Gas prices are highest in big blue states that are probably going to vote for him anyway.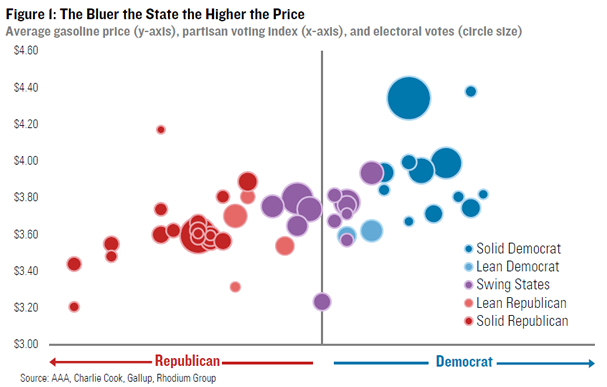 The chart uses political super-analyst Charlie Cook's partisan voting index to decide where each state should fall on the red-to-blue spectrum. And as you can see, the states with the highest prices tend to vote blue. Royal blue. There are a few reasons for this. First off, Democratic-leaning states often have high combined gas and sales taxes -- California and New York both tack more than 50 cents in taxes onto the price of a gallon. Meanwhile, much of America's refining capacity is centered near red states on the Gulf of Mexico. The closer you are to a refinery, traditionally, the less you pay. States that heavily regulate the composition of their gasoline -- again, think California -- also tend to pay more.
Economics aside, this map should at least give the White House a little reason for concern. Gas isn't cheap in those purple swing states. In fact, it turns out their prices very near the national average of $3.84 a gallon, which while below that psychologically awful $4 threshold, is nonetheless hard on the pocketbook. If oil markets stay jittery over the conflict with Iran and the summer driving season has its usual effect on prices, gas costs will keep rising across the map. And that could indeed make for some very cranky voters in some very important states. 

>