Why It's Cheaper to Go to Harvard than a California State School
California has pared back on education spending, while the Ivy League has upped student aid. Could your state be next?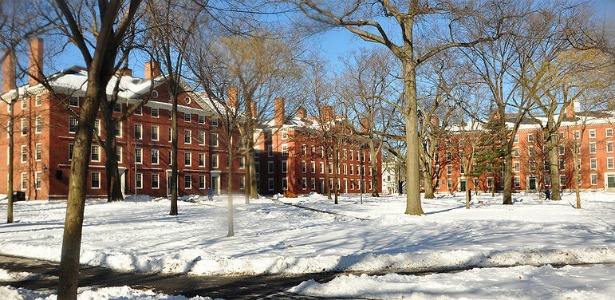 If you are the child of a middle class family in California, it is probably cheaper for you to attend college at Harvard than at a nearby public university.
You read correctly. Cheaper.

The Bay Area News Group recently crunched the numbers using a family of four making $130,000 a year. Between tuition, room, board, and other expenses, that family would pay $24,000 a year to send one of their kids to school at a California State University campus. Although the sticker price on Harvard's tuition is a dizzying $36,000, the university's generous student aid would make it a significantly cheaper option.
How much cheaper? The final price of attendance would be about $17,000. That's also less expensive than the full cost of attendance at the University of California, Santa Cruz ($33,000 a year). It's even less expensive than the University of California, Berkeley ($19,500 a year), which has begun dolling out more aid to compete with other elite schools.
There was obviously a time when a middle class student could go to school in California for less than the cost of an Ivy League diploma. That's changed thanks to two simultaneous trends  -- one encouraging, one deeply disturbing -- that are warping the contours of America's higher education system.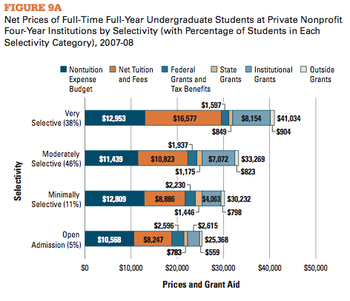 First, the good news. In recent years, elite colleges have been on a private mission to redistribute a bit of America's wealth, charging exorbitant tuition to richer students, and using it to offer steep discounts to needier undergraduates. When measured in inflation adjusted dollars, the average real tuition at private, four-year colleges has decreased since 2006, according to the college board, even as schools have continued pushing up their sticker prices. The more elite the institution, the larger the discount. The graph to the right shows that, in 2008, the average student at a highly selective private university received $8,154 in "institutional grants." That's college administrator talk for "price cut."
These schools aren't inexpensive. Luxe on-campus gyms and state-of-the-art education facilities don't come for free, after all. But for children of the 99 percent, an elite education costs much less than advertised.
Students at public schools haven't been so fortunate. Because legislators have spent the past decade hacking away at higher education budgets, state universities have had to raise their tuition prices. Twenty-nine states have reduced the appropriations their for public university systems since 2007, according to the Illinois State University Grapevine project. Arizona and New Hampshire pared theirs by more than 30 percent each. California has sliced funding by 12.5 percent while its schools have doubled their tuition.
Dwindling appropriations aren't the only reason tuition costs are rising, but they're the primary driving force. The graph below, also from the college board, plots state changes in state spending on higher-ed (in blue) against changes in tuition (in orange). There's a pretty clear trend: When budgets get stingier, costs for students go up.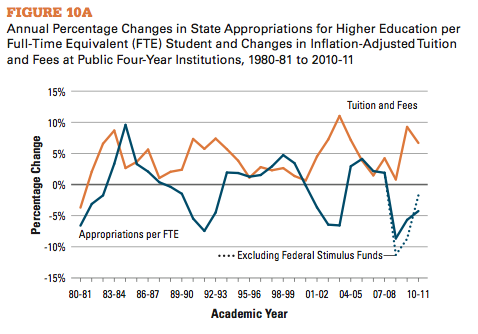 By and large, most four-year state schools are still significantly less expensive than their private counterparts. But it's not hard to imagine California's situation repeating itself elsewhere, as legislatures continue pulling back their support of education, and private schools increase their largesse. It might seem strange to think, but Harvard could soon be cheaper than your local State U., too.
Image: Wikipedia
>