Trade My Brain, Please! Why We Don't Need to 'Make Something' to Export It
What do Harvard University, an architecture firm, and a hotel have in common? They're all potentially thriving exporters. So why does the president focus so much on making things?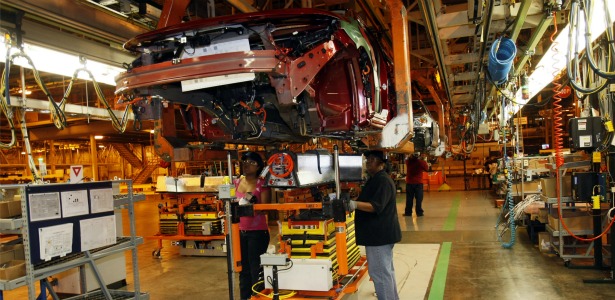 Reuters

"I don't want stuff made there and sold over here. I want stuff made here and sold over there," a sing-songy President Obama told a U.S. auto plant today. "The key now is to keep this economy churning. That starts with American manufacturing. That starts with you."
One doesn't begrudge the president a good political bumper sticker -- "Built to Last!" -- but he's mistaking the building of things for the fulcrum of the economy.* This economy doesn't begin with manufacturing, unless you're listing major industry sectors starting with letter M. Its share of GDP has fallen by two-thirds in the last 40 years. It now employs one in 12 workers in the U.S. We still make lots of stuff -- more than we did in the 1990s, even. But making stuff doesn't define us, anymore.
MAKING MORE

To be fair, manufacturing has had a really nice recovery in the last two years, after getting creamed in 2008, 2009, and 2010. Manufacturing employment in the durable goods sector -- "durable" meaning stuff that lasts, like cars and furniture and computers, as opposed to "nondurable" goods like paper, leather, and oil -- have increased by about 230,000 jobs in the last year. That's about 11 percent of all jobs added over the same period. An important contribution, but not quite a foundation.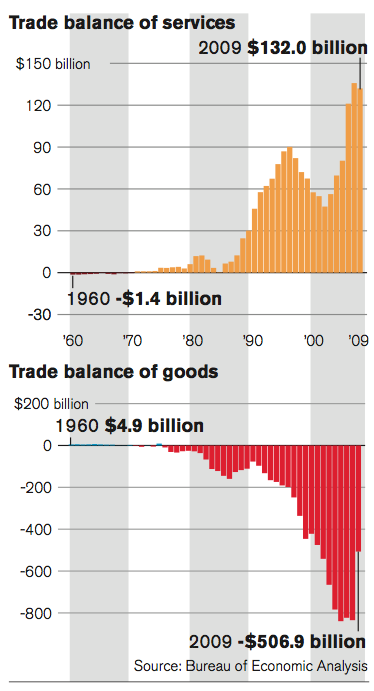 As for the car-makers: The "motor vehicles and parts"
sector
employs 750,000 people today, 50,000 more than it did one year ago. This is fantastic news for 50,000 people, whose jobs have multiplier factors that I won't even try to approximate here. But mining, which employs a similar number of people, grew by twice as much in the last year. Would you believe a politician who said that the U.S. recovery begins with "support activities for mining"?
GOODS AND SERVICES

The president is onto something. Exports matter. A good reason to fetishize manufacturing is right in the president's first line: "If we do stuff here, we can sell it there." As you might have caught on, I changed the word "make" in the president's speech to "do" in this paragraph, because we don't need to make something and put it in a box to sell it to foreigners. We can do stuff and sell it for foreign money, too. This sort of thing is called a "service exports." It means selling our work, or brains, and our resources to other countries.

"Services exports" sounds like a rather silly or impossible thing -- like putting an American doctor in a small box, shipping him across the Pacific to hospital in Mumbai, and shipping him back with the rupees. In fact, services exports are much simpler than that. Simpler, even, than selling actual manufactured goods. If an Argentinian student goes to Harvard, that's an export. If a Korean uses a Kansas architect to design a building, that's an export. If Bain Capital advises a British investor getting in on a Moroccan start-up, that's an export.
Perhaps service exports seem less "pure" than manufactured exports. In fact, there's a better case that the opposite is true. For any given "export dollar," service exports create a great share of what economists call "U.S. value added. That's a mouth-full, so you can call it "cold hard money in America."
Think about a car shipped in a box from the United States to Spain. That's a U.S. export. But it's not a 100% U.S. product. The car parts might have come from one country, where they were fixed in Canada, taken south to be assembled in the United States, and shipped to Barcelona. The money made from the Spanish sale counts as a U.S. export, but the revenue is divided across the car's global supply chain. On the other hand, if a Barcelona family goes to Detroit for vacation, their euros stay in Detroit.
"Business service exports had 95.6 percent U.S. value-added in 2004," the Brookings Metropolitan Policy program reported in a new study on exports. "Metropolitan areas specialized in services, such as Des Moines, Las Vegas, and Washington, D.C. tend to have higher shares of U.S. value-added in their exports than the rest of the largest 100 metro areas."
The United States is the second or third largest total exporter, by various counts. But as a service exporter, we're the unambiguous world leader, commanding 14% of the world market, twice that of second-place Germany. In 2010, private services exports represented a third of U.S. exports, according to Brookings, and that number is going to keep growing. (As Scott Thomasson pointed out on Twitter, we even have a trade surplus with China.)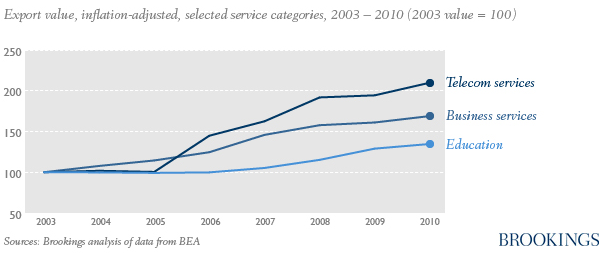 An emphasis on exports is important because it keeps us competitive in a global market and brings in foreign money, which is especially useful for a slow economy. But we shouldn't just think of exports as stuff we can put into a box. We will continue to make things and put them in boxes and sell them in other countries. But 70% of the economy is employed in the services sector and there are five times more people working in professional services/education/leisure&hospitality than manufacturing today, and the ratio will probably grow in the next decade. We need to talk about those exporting industries, too. You don't need to make something to sell it "there."
Photo source: National Journal

*It's not that the White House doesn't understand that exports can be traded. They do. But it's not emphasized.

>